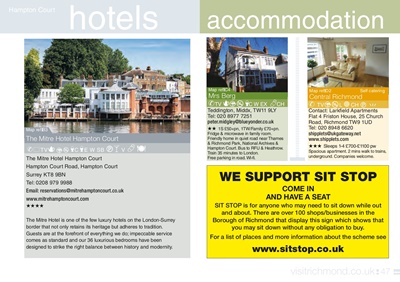 hotels
Hampton Court
Map ref B3
The Mitre Hotel Hampton Court
The Mitre Hotel Hampton Court
Hampton Court Road, Hampton Court
Surrey KT8 9BN
Tel: 0208 979 9988
Email: reservations@mitrehamptoncourt.co.uk
HHHH
The Mitre Hotel is one of the few luxury hotels on the London-Surrey
border that not only retains its heritage but adheres to tradition.
Guests are at the forefront of everything we do; impeccable service
comes as standard and our 36 luxurious bedrooms have been
designed to strike the right balance between history and modernity.
&5TV Dz C E W SB V
accommodation
SIT STOP is for anyone who may need to sit down while out
and about. There are over 100 shops/businesses in the
Borough of Richmond that display this sign which shows that
you may sit down without any obligation to buy.
For a list of places and more information about the scheme see
peter.midgley@blueyonder.co.uk
ME IN
AND HAVE A SEAT
visitrichmond.co.uk - 47 ---
Map ref C4
Mrs Berg
Teddington, Middx, TW11 9LY
Tel: 020 8977 7251
peter.midgley@blueyonder.co.uk
HH 1S £50+pn, 1TW/Family £70+pn.
Fridge & microwave in family room.
Friendly home in quiet road near Thames
& Richmond Park, National Archives &
Hampton Court. Bus to RFU & Heathrow.
Train 35 minutes to London.
Free parking in road. Wi-fi.
&TV Dz C W EX Cshipplets@ukgateway.net catering
Central Richmond
Contact: Larkfield Apartments
Flat 4 Friston House, 25 Church
Road, Richmond TW9 1UD
Tel: 020 8948 6620
shipplets@ukgateway.net
HHH Sleeps 1-4 £700-£1100 pw
Spacious apartment. 2 mins walk to trains,
underground. Companies welcome.
& TVDzL CH