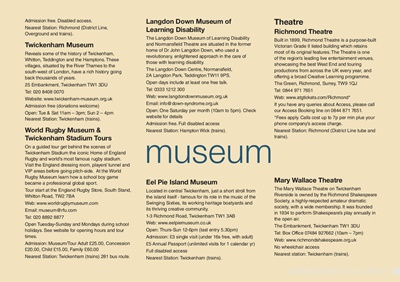 Admission free. Disabled access.
Nearest Station: Richmond (District Line,
Overground and trains).
Twickenham Museum
Reveals some of the history of Twickenham,
Whitton, Teddington and the Hamptons. These
villages, situated by the River Thames to the
south-west of London, have a rich history going
back thousands of years.
25 Embankment, Twickenham TW1 3DU
Tel: 020 8408 0070
Website: www.twickenham-museum.org.uk
Admission free (donations welcome)
Open: Tue & Sat 11am - 3pm; Sun 2 - 4pm
Nearest Station: Twickenham (trains).
World Rugby Museum &
Twickenham Stadium Tours
On a guided tour get behind the scenes of
Twickenham Stadium the iconic Home of England
Rugby and world's most famous rugby stadium.
Visit the England dressing room, players' tunnel and
VIP areas before going pitch-side.  At the World
Rugby Museum learn how a school boy game
became a professional global sport.
Tour start at the Enmuseum@rfu.comore, South Stand,
Whitton Road, TW2 7BA
Email: museum@rfu.com
Tel: 020 8892 8877
Open Tuesday-Sunday and Mondays during school
holidays. See website for opening hours and tour
times.
Admission: Museum/Tour Adult £25.00, Concession
£20.00, Child £15.00, Family £60.00
Nearest Station: Twickenham (trains) 281 bus route. museum
Langdon Down Museum of
Learning Disability
The Langdon Down Museum of Learning Disability
and Normansfield Theatre are situated in the former
home of Dr John Langdon Down, who used a
revolutionary, enlightened approach in the care of
those with learning disability.
info@down-syndrome.org.uk Normansfield,
2A Langdon Park, Teddington TW11 9PS.
Open days include at least one free talk.
Tel: 0333 1212 300
Web: www.langdondownmuseum.org.uk
Email: info@down-syndrome.org.uk
Open: One Saturday per month (10am to 5pm). Check
website for details
Admission free. Full disabled access
Nearest Station: Hampton Wick (trains).
Eel Pie Island Museum
Located in central Twickenham, just a short stroll from
the island itself - famous for its role in the music of the
Swinging Sixties, its working heritage boatyards and
its thriving creative community.
1-3 Richmond Road, Twickenham TW1 3AB
Open: Thurs-Sun 12-6pm (last entry 5.30pm)
Admission: £3 single visit (under 16s free, with adult)
£5 Annual Passport (unlimited visits for 1 calendar yr)
Full disabled access
Nearest Station: Twickenham (trains).
Theatre
Richmond Theatre
Built in 1899, Richmond Theatre is a purpose-built
Victorian Grade II listed building which retains
most of its original features. The Theatre is one
of the region's leading live entertainment venues,
showcasing the best West End and touring
productions from across the UK every year, and
offering a broad Creative Learning programme.
The Green, Richmond, Surrey, TW9 1QJ
Tel: 0844 971 7651
Web: www.atgtickets.com/richmond*
If you have any queries about Access, please call
our Access Booking line on 0844 871 7651.
*Fees apply. Calls cost up to 7p per min plus your
phone company's access charge.
Nearest Station: Richmond (District Line tube and
trains).
Mary Wallace Theatre
The Mary Wallace Theatre on Twickenham
Riverside is owned by the Richmond Shakespeare
Society, a highly-respected amateur dramatic
society, with a wide membership. It was founded
in 1934 to perform Shakespeare's play annually in
the open air.
The Embankment, Twickenham TW1 3DU
Tel: Box Office 07484 927662 (10am - 7pm)
Web: www.richmondshakespeare.org.uk
No wheelchair access
Nearest station: Twickenham (trains).
visitrichmond.co.uk - 17 ---