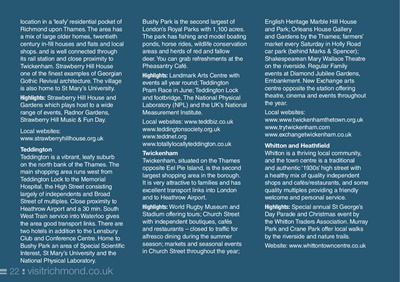 --- 22 - visitrichmond.co.uk
location in a 'leafy' residential pocket of
Richmond upon Thames. The area has
a mix of large older homes, twentieth
century in-fill houses and flats and local
shops. and is well connected through
its rail station and close proximity to
Twickenham. Strawberry Hill House
one of the finest examples of Georgian
Gothic Revival architecture. The village
is also home to St Mary's University.
Highlights: Strawberry Hill House and
Gardens which plays host to a wide
range of events, Radnor Gardens,
Strawberry Hill Music & Fun Day.
Local websites:
www.strawberryhillhouse.org.uk
Teddington
Teddington is a vibrant, leafy suburb
on the north bank of the Thames. The
main shopping area runs west from
Teddington Lock to the Memorial
Hospital, the High Street consisting
largely of independents and Broad
Street of multiples. Close proximity to
Heathrow Airport and a 30 min. South
West Train service into Waterloo gives
the area good transport links. There are
two hotels in addition to the Lensbury
Club and Conference Centre. Home to
Bushy Park an area of Special Scientific
Interest, St Mary's University and the
National Physical Laboratory.
Bushy Park is the second largest of
London's Royal Parks with 1,100 acres.
The park has fishing and model boating
ponds, horse rides, wildlife conservation
areas and herds of red and fallow
deer. You can grab refreshments at the
Pheasantry Café.
Highlights: Landmark Arts Centre with
events all year round; Teddington
Pram Race in June; Teddington Lock
and footbridge, The National Physical
Laboratory (NPL) and the UK's National
Measurement Institute.
Local websites: www.teddbiz.co.uk
www.totallylocallyteddington.co.uk
Twickenham
Twickenham, situated on the Thames
opposite Eel Pie Island, is the second
largest shopping area in the borough.
It is very attractive to families and has
excellent transport links into London
and to Heathrow Airport.
Highlights: World Rugby Museum and
Stadium offering tours; Church Street
with independent boutiques, cafés
and restaurants - closed to traffic for
alfresco dining during the summer
season; markets and seasonal events
in Church Street throughout the year;
English Heritage Marble Hill House
and Park; Orleans House Gallery
and Gardens by the Thames; farmers'
market every Saturday in Holly Road
car park (behind Marks & Spencer);
Shakespearean Mary Wallace Theatre
on the riverside. Regular Family
events at Diamond Jubilee Gardens,
Embankment. New Exchange arts
centre opposite the station offering
theatre, cinema and events throughout
the year.
Local websites:
www.www.twickenhamthetown.org.uk
Whitton and Heathfield
Whitton is a thriving local community,
and the town centre is a traditional
and authentic '1930s' high street with
a healthy mix of quality independent
shops and cafés/restaurants, and some
quality multiples providing a friendly
welcome and personal service.
Highlights: Special annual St George's
Day Parade and Christmas event by
the Whitton Traders Association. Murray
Park and Crane Park offer local walks
by the riverside and nature trails.
Website: www.whittontowncentre.co.uk