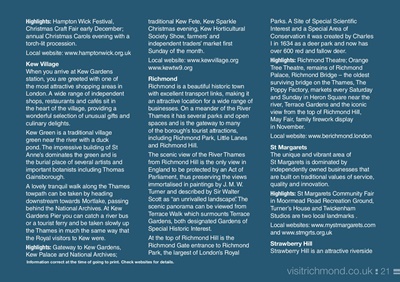 Information correct at the time of going to print. Check websites for details.
visitrichmond.co.uk - 21 ---
Highlights: Hampton Wick Festival,
Christmas Craft Fair early December;
annual Christmas Carols evening with a
torch-lit procession.
Local website: www.hamptonwick.org.uk
Kew Village
When you arrive at Kew Gardens
station, you are greeted with one of
the most attractive shopping areas in
London. A wide range of independent
shops, restaurants and cafés sit in
the heart of the village, providing a
wonderful selection of unusual gifts and
culinary delights.
Kew Green is a traditional village
green near the river with a duck
pond. The impressive building of St
Anne's dominates the green and is
the burial place of several artists and
important botanists including Thomas
Gainsborough.
A lovely tranquil walk along the Thames
towpath can be taken by heading
downstream towards Mortlake, passing
behind the National Archives. At Kew
Gardens Pier you can catch a river bus
or a tourist ferry and be taken slowly up
the Thames in much the same way that
the Royal visitors to Kew were.
Highlights: Gateway to Kew Gardens,
Kew Palace and National Archives;
traditional Kew Fete, Kew Sparkle
Christmas evening, Kew Horticultural
Society Show, farmers' and
independent traders' market first
Sunday of the month.
Local website: www.kewvillage.org
Richmond
Richmond is a beautiful historic town
with excellent transport links, making it
an attractive location for a wide range of
businesses. On a meander of the River
Thames it has several parks and open
spaces and is the gateway to many
of the borough's tourist attractions,
including Richmond Park, Little Lanes
and Richmond Hill.
The scenic view of the River Thames
from Richmond Hill is the only view in
England to be protected by an Act of
Parliament, thus preserving the views
immortalised in paintings by J. M. W.
Turner and described by Sir Walter
Scott as "an unrivalled landscape". The
scenic panorama can be viewed from
Terrace Walk which surmounts Terrace
Gardens, both designated Gardens of
Special Historic Interest.
At the top of Richmond Hill is the
Richmond Gate entrance to Richmond
Park, the largest of London's Royal
Parks. A Site of Special Scientific
Interest and a Special Area of
Conservation it was created by Charles
I in 1634 as a deer park and now has
over 600 red and fallow deer.
Highlights: Richmond Theatre; Orange
Tree Theatre, remains of Richmond
Palace, Richmond Bridge - the oldest
surviving bridge on the Thames, The
Poppy Factory, markets every Saturday
and Sunday in Heron Square near the
river, Terrace Gardens and the iconic
view from the top of Richmond Hill,
May Fair, family firework display
in November.
Local website: www.berichmond.london
St Margarets
The unique and vibrant area of
St Margarets is dominated by
independently owned businesses that
are built on traditional values of service,
quality and innovation.
Highlights: St Margarets Community Fair
in Moormead Road Recreation Ground,
Turner's House and Twickenham
Studios are two local landmarks .
Local websites: www.mystmargarets.com
Strawberry Hill
Strawberry Hill is an attractive riverside