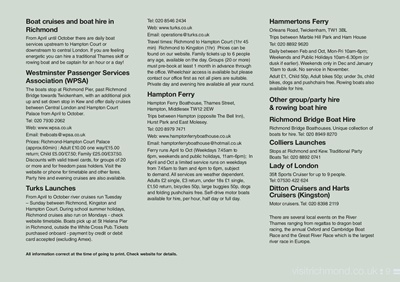 Tel: 020 8546 2434
Web: operations@turks.co.uktle="Visit www.turks.co.uk">www.turks.co.uk
Email: operations@turks.co.uk
Travel times: Richmond to Hampton Court (1hr 45
min) Richmond to Kingston (1hr) Prices can be
found on our website. Family tickets up to 6 people
any age, available on the day. Groups (20 or more)
must pre-book at least 1 month in advance through
the office. Wheelchair access is available but please
contact our office first as not all piers are suitable.
Private day and evening hire available all year round.
Hampton Ferry
Hampton Ferry Boathouse, Thames Street,
Hampton, Middlesex TW12 2EW
Trips between Hampton (opposite The Bell Inn),
Hurst Park and East Moleseyhamptonferryboathouse@hotmail.co.ukb: www.hamptonferryboathouse.co.uk
Email: hamptonferryboathouse@hotmail.co.uk
Ferry runs April to Oct (Weekdays 7.45am to
6pm, weekends and public holidays, 11am-6pm);  In
April and Oct a limited service runs on weekdays
from 7.45am to 9am and 4pm to 6pm, subject
to demand. All services are weather dependent.
Adults £2 single, £3 return, under 18s £1 single,
£1.50 return, bicycles 50p, large buggies 50p, dogs
and folding pushchairs free. Self-drive motor boats
available for hire, per hour, half day or full day.
Boat cruises and boat hire in
Richmond
From April until October there are daily boat
services upstream to Hampton Court or
downstream to central London. If you are feeling
energetic you can hire a traditional Thames skiff or
rowing boat and be captain for an hour or a day!
Westminster Passenger Services
Association (WPSA)
The boats stop at Richmond Pier, past Richmond
Bridge towards Twickenham, with an additional pick
utheboats@wpsa.co.uk in Kew and offer daily cruises
between Central London and Hampton Court
Palace from April to October.
Tel: 020 7930 2062
Web: www.wpsa.co.uk
Email: theboats@wpsa.co.uk
Prices: Richmond-Hampton Court Palace
(approx.60min) : Adult £10.00 one way/£15.00
return; Child £5.00/£7.50; Family £25.00/£37.50.
Discounts with valid travel cards, for groups of 20
or more and for freedom pass holders. Visit the
website or phone for timetable and other fares.
Party hire and evening cruises are also available.
Turks Launches
From April to October river cruises run Tuesday
- Sunday between Richmond, Kingston and
Hampton Court. During school summer holidays,
Richmond cruises also run on Mondays - check
website timetable. Boats pick up at St Helena Pier
in Richmond, outside the White Cross Pub. Tickets
purchased onboard - payment by credit or debit
card accepted (excluding Amex).
Hammertons Ferry
Orleans Road, Twickenham, TW1 3BL
Trips between Marble Hill Park and Ham House
Tel: 020 8892 9620
Daily between Feb and Oct, Mon-Fri 10am-6pm;
Weekends and Public Holidays 10am-6.30pm (or
dusk if earlier). Weekends only in Dec and January
10am to dusk. No service in November.
Adult £1, Child 50p, Adult bikes 50p; under 3s, child
bikes, dogs and pushchairs free. Rowing boats also
available for hire.
Other group/party hire
& rowing boat hire
Richmond Bridge Boat Hire
Richmond Bridge Boathouses. Unique collection of
boats for hire. Tel: 020 8949 8270
Colliers Launches
Stops at Richmond and Kew. Traditional Party
Boats Tel: 020 8892 0741
Lady of London
35ft Sports Cruiser for up to 9 people.
Tel: 07530 422 624
Ditton Cruisers and Harts
Cruisers (Kingston)
Motor cruisers. Tel: 020 8398 2119
There are several local events on the River
Thames ranging from regattas to dragon boat
racing, the annual Oxford and Cambridge Boat
Race and the Great River Race which is the largest
river race in Europe.
All information correct at the time of going to print. Check website for details.
visitrichmond.co.uk - 9 ---