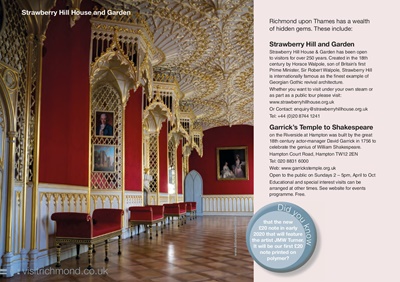 Richmond upon Thames has a wealth
of hidden gems. These include:
Strawberry Hill and Garden
Strawberry Hill House & Garden has been open
to visitors for over 250 years. Created in the 18th
century by Horace Walpole, son of Britain's first
Prime Minister, Sir Robert Walpole, Strawberry Hill
is internationally famous as the finest example of
Georgian Gothic revival architecture.
Whether you want to visit under your own steam or
as part as a public tour please visit:
enquiry@strawberryhillhouse.org.ukrawberryhillhouse.org.uk">www.strawberryhillhouse.org.uk
Or Contact: enquiry@strawberryhillhouse.org.uk
Tel: +44 (0)20 8744 1241
Garrick's Temple to Shakespeare
on the Riverside at Hampton was built by the great
18th century actor-manager David Garrick in 1756 to
celebrate the genius of William Shakespeare.
Hampton Court Road, Hampton TW12 2EN
Tel: 020 8831 6000
Web: www.garrickstemple.org.uk
Open to the public on Sundays 2 - 5pm, April to Oct
Educational and special interest visits can be
arranged at other times. See website for events
programme. Free.
Strawberry Hill House and Garden
that the new
£20 note in early
2020 that will feature
the artist JMW Turner.
It will be our first £20
note printed on
polymer?
Did you know
--- 6 - visitrichmond.co.uk