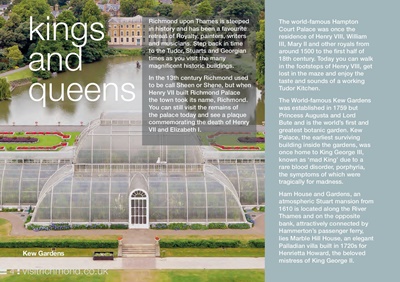 The world-famous Hampton
Court Palace was once the
residence of Henry VIII, William
III, Mary II and other royals from
around 1500 to the first half of
18th century. Today you can walk
in the footsteps of Henry VIII, get
lost in the maze and enjoy the
taste and sounds of a working
Tudor Kitchen.
The World-famous Kew Gardens
was established in 1759 but
Princess Augusta and Lord
Bute and is the world's first and
greatest botanic garden. Kew
Palace, the earliest surviving
building inside the gardens, was
once home to King George III,
known as 'mad King' due to a
rare blood disorder, porphyria,
the symptoms of which were
tragically for madness.
Ham House and Gardens, an
atmospheric Stuart mansion from
1610 is located along the River
Thames and on the opposite
bank, attractively connected by
Hammerton's passenger ferry,
lies Marble Hill House, an elegant
Palladian villa built in 1720s for
Henrietta Howard, the beloved
mistress of King George II.
Kew Gardens
kings
and
queens Richmond upon Thames is steeped
in history and has been a favourite
retreat of Royalty, painters, writers
and musicians. Step back in time
to the Tudor, Stuarts and Georgian
times as you visit the many
magnificent historic buildings.
In the 13th century Richmond used
to be call Sheen or Shene, but when
Henry VII built Richmond Palace
the town took its name, Richmond.
You can still visit the remains of
the palace today and see a plaque
commemorating the death of Henry
VII and Elizabeth I.
--- 4 - visitrichmond.co.uk