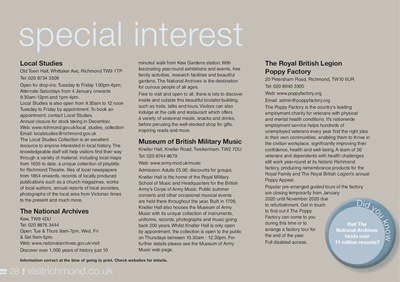 that The
National Archives
holds over
11 million records?
Did you know
--- 28 - visitrichmond.co.uk
minutes' walk from Kew Gardens station. With
fascinating year-round exhibitions and events, free
family activities, research facilities and beautiful
gardens, The National Archives is the destination
for curious people of all ages.
Free to visit and open to all, there is lots to discover
inside and outside this beautiful brutalist building,
such as trails, talks and tours. Visitors can also
indulge at the café and restaurant which offers
a variety of seasonal meals, snacks and drinks,
before perusing the well-stocked shop for gifts,
inspiring reads and more.
Museum of British Military Music
Kneller Hall, Kneller Road, Twickenham, TW2 7DU
Tel: 020 8744 8679
Admission: Adults £5.00, discounts for groups.
Kneller Hall is the home of the Royal Military
School of Music and Headquarters for the British
Army's Corps of Army Music. Public summer
concerts and other occasional musical events
are held there throughout the year. Built in 1709,
Kneller Hall also houses the Museum of Army
Music with its unique collection of instruments,
uniforms, records, photographs and music going
back 200 years. Whilst Kneller Hall is only open
by appointment, the collection is open to the public
on Thursdays between 10.30am - 12.30pm. For
further details please see the Museum of Army
Music web page.
Local Studies
Old Town Hall, Whittaker Ave, Richmond TW9 1TP
Tel: 020 8734 3309
Open for drop-ins: Tuesday to Friday 1.00pm-6pm;
Alternate Saturdays from 4 January onwards
9.30am-12pm and 1pm-4pm.
Local Studies is also open from 9.30am to 12 noon
Tuesday to Friday by appointment. To book an
appointment, contact Local Studies.
Annual closure for localstudies@richmond.gov.uk>
Web: www.richmond.gov.uk/local_studies_collection
Email: localstudies@richmond.gov.uk
The Local Studies Collection is an excellent
resource to anyone interested in local history. The
knowledgeable staff will help visitors find their way
through a variety of material, including local maps
from 1635 to date, a unique collection of playbills
for Richmond Theatre, files of local newspapers
from 1854 onwards, records of locally produced
publications such as a church magazines, works
of local authors, annual reports of local societies,
photographs of the local area from Victorian times
to the present and much more.
The National Archives
Kew, TW9 4DU
Tel: 020 8876 3444
Open: Tue & Thurs 9am-7pm, Wed, Fri
& Sat 9am-5pm.
Web: admin@poppyfactory.org.gov.uk/visit" target="_blank" title="Visit www.nationalarchives.gov.uk/visit">www.nationalarchives.gov.uk/visit
Discover over 1,000 years of history just 10
The Royal British Legion
Poppy Factory
20 Petersham Road, Richmond, TW10 6UR
Tel: 020 8940 3305
Web: www.poppyfactory.org
Email: admin@poppyfactory.org
The Poppy Factory is the country's leading
employment charity for veterans with physical
and mental health conditions. It's nationwide
employment service helps hundreds of
unemployed veterans every year find the right jobs
in their own communities, enabling them to thrive in
the civilian workplace, significantly improving their
confidence, health and well-being. A team of 30
veterans and dependents with health challenges
still work year-round at its historic Richmond
factory, producing remembrance products for the
Royal Family and The Royal British Legion's annual
Poppy Appeal.
Popular pre-arranged guided tours of the factory
are closing temporarily from January
2020 until November 2020 due
to refurbishment. Get in touch
to find out if The Poppy
Factory can come to you
during this time or to
arrange a factory tour for
the end of the year.
Full disabled access.
Information correct at the time of going to print. Check websites for details.
special interest