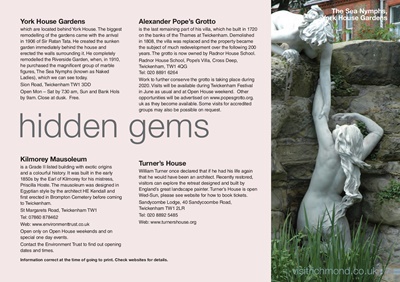 York House Gardens
which are located behind York House. The biggest
remodelling of the gardens came with the arrival
in 1906 of Sir Ratan Tata. He created the sunken
garden immediately behind the house and
erected the walls surrounding it. He completely
remodelled the Riverside Garden, when, in 1910,
he purchased the magnificent group of marble
figures, The Sea Nymphs (known as Naked
Ladies), which we can see today.
Sion Road, Twickenham TW1 3DD
Open Mon - Sat by 7.30 am, Sun and Bank Hols
by 9am. Close at dusk. Free.
Kilmorey Mausoleum
is a Grade II listed building with exotic origins
and a colourful history. It was built in the early
1850s by the Earl of Kilmorey for his mistress,
Priscilla Hoste. The mausoleum was designed in
Egyptian style by the architect HE Kendall and
first erected in Brompton Cemetery before coming
to Twickenham.
St Margarets Road, Twickenham TW1
Tel: 07860 878462
Web: www.environmenttrust.co.uk
Open only on Open House weekends and on
special one day events.
Contact the Environment Trust to find out opening
dates and times.
Information correct at the time of going to print. Check websites for details.
Alexander Pope's Grotto
is the last remaining part of his villa, which he built in 1720
on the banks of the Thames at Twickenham. Demolished
in 1808, the villa was replaced and the property became
the subject of much redevelopment over the following 200
years. The grotto is now owned by Radnor House School.
Radnor House School, Pope's Villa, Cross Deep,
Twickenham, TW1 4QG
Tel: 020 8891 6264
Work to further conserve the grotto is taking place during
2020. Visits will be available during Twickenham Festival
in June as usual and at Open House weekend.  Other
opportunities will be advertised on www.popesgrotto.org.
uk as they become available. Some visits for accredited
groups may also be possible on request.
Turner's House
William Turner once declared that if he had his life again
that he would have been an architect. Recently restored,
visitors can explore the retreat designed and built by
England's great landscape painter. Turner's House is open
Wed-Sun, please see website for how to book tickets.
Sandycombe Lodge, 40 Sandycoombe Road,
Twickenham TW1 2LR
Tel: 020 8892 5485
Web: www.turnershouse.org
hidden gems
The Sea Nymphs,
York House Gardens
visitrichmond.co.uk - 7 ---