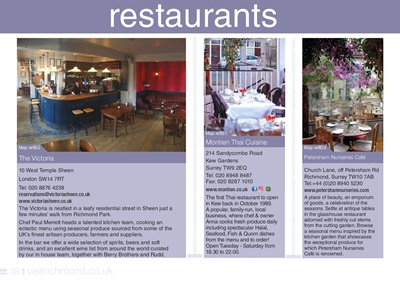 restaurants Map ref D2
Petersham Nurseries Café
Church Lane, off Petersham Rd
Richmond, Surrey TW10 7AB
Tel:+44 (0)20 8940 5230
A place of beauty, an emporium
of goods, a celebration of the
seasons. Settle at antique tables
in the glasshouse restaurant
adorned with freshly cut stems
from the cutting garden. Browse
a seasonal menu inspired by the
kitchen garden that showcases
the exceptional produce for
which Petersham Nurseries
Café is renowned.
Map ref E1
Montien Thai Cuisine
214 Sandycombe Road
Kew Gardens
Surrey TW9 2EQ
Tel: 020 8948 8487
Fax: 020 8287 1010
The first Thai restaurant to open
in Kew back in October 1989.
A popular, family-run, local
business, where chef & owner
Anna cooks fresh produce daily
including spectacular Halal,
Seafood, Fish & Quorn dishes
from the reservations@victoriasheen.co.ukesday - Saturday from
18.30 to 22.00.
Map ref E2
The Victoria
10 West Temple Sheen
London SW14 7RT
Tel: 020 8876 4238
reservations@victoriasheen.co.uk
The Victoria is nestled in a leafy residential street in Sheen just a
few minutes' walk from Richmond Park.
Chef Paul Merrett heads a talented kitchen team, cooking an
eclectic menu using seasonal produce sourced from some of the
UK's finest artisan producers, farmers and suppliers.
In the bar we offer a wide selection of spirits, beers and soft
drinks, and an excellent wine list from around the world curated
by our in house team, together with Berry Brothers and Rudd.
--- 38 - visitrichmond.co.uk