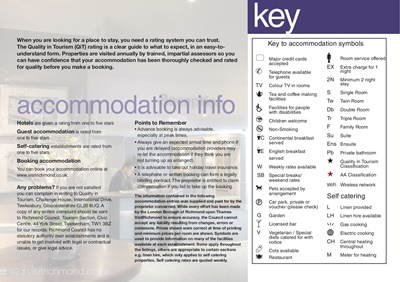 Points to Remember
• Advance booking is always advisable,
especially at peak times.
• Always give an expected arrival time and phone if
you are delayed (accommodation providers may
re-let the accommodation if they think you are
not turning up as arranged).
• It is advisable to take out holiday travel insurance.
• A telephone or written booking can form a legally
binding contract. The proprietor is entitled to claim
compensation if you fail to take up the booking.
The information contained in the following
accommodation entries was supplied and paid for by the
proprietor concerned. While every effort has been made
by the London Borough of Richmond upon Thames
VisitRichmond to ensure accuracy, the Council cannot
accept any liability resulting from changes, errors or
omissions. Prices shown were correct at time of printing
and minimum prices per room are shown. Symbols are
used to provide information on many of the facilities
available at each establishment. Some apply throughout
the listings, others are appropriate to certain sections
e.g. linen hire, which only applies to self catering
properties. Self catering rates are quoted weekly.
Hotels are given a rating from one to five stars
Guest accommodation is rated from
one to five stars
Self-catering establishments are rated from
one to five stars
Booking accommodation
You can book your accommodation online at
Any problems? If you are not satisfied
you can complain in writing to Quality in
Tourism, Challenge House, International Drive,
Tewkesbury, Gloucestershire GL20 8UQ. A
copy of any written complaint should be sent
to Richmond Council, Tourism Section, Civic
Centre, 44 York Street, Twickenham, TW1 3BZ
for our records. Richmond Council has no
statutory authority over establishments and is
unable to get involved with legal or contractual
issues, or give legal advice.
5 Major credit cards
accepted
& Telephone available
for guests
TV Colour TV in rooms
Tea and coffee making
facilities
Facilities for people
with disabilities
D Children welcome
z Non-Smoking
C Continental breakfast
served
E English breakfast
served
W Weekly rates available
SB Special breaks/
weekend rates
Pets accepted by
arrangement
Car park, private or
voucher (please check)
G Garden
Licensed bar
V Vegetarian / Special
diets catered for with
notice
Cots available
Restaurant
Room service offered
EX Extra charge for 1
night
2N Minimum 2 night
stay
S Single Room
Tw Twin Room
Db Double Room
Tr Triple Room
F Family Room
Su Suite
Ens Ensuite
Pb Private bathroom
H Quality in Tourism
Classification
H AA Classification
WiFi Wireless network
Self catering
L Linen provided
LH Linen hire available
Gas cooking
Electric cooking
CH Central heating
throughout
M Meter for heating
Key to accommodation symbolskey
accommodation info
When you are looking for a place to stay, you need a rating system you can trust.
The Quality in Tourism (QiT) rating is a clear guide to what to expect, in an easy-tounderstand form. Properties
are visited annually by trained, impartial assessors so you
can have confidence that your accommodation has been thoroughly checked and rated
for quality before you make a booking.
--- 42 - visitrichmond.co.uk