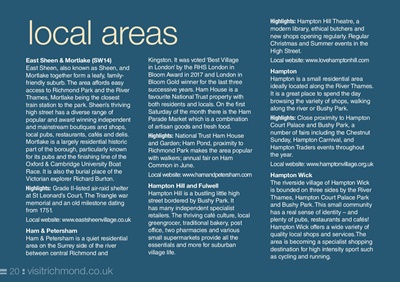 local areas
--- 20 - visitrichmond.co.uk
East Sheen & Mortlake (SW14)
East Sheen, also known as Sheen, and
Mortlake together form a leafy, familyfriendly
suburb. The area affords easy
access to Richmond Park and the River
Thames, Mortlake being the closest
train station to the park. Sheen's thriving
high street has a diverse range of
popular and award winning independent
and mainstream boutiques and shops,
local pubs, restaurants, cafés and delis.
Mortlake is a largely residential historic
part of the borough, particularly known
for its pubs and the finishing line of the
Oxford & Cambridge University Boat
Race. It is also the burial place of the
Victorian explorer Richard Burton.
Highlights: Grade II-listed air-raid shelter
at St Leonard's Court, The Triangle war
memorial and an old milestone dating
from 1751.
Local website: www.eastsheenvillage.co.uk
Ham & Petersham
Ham & Petersham is a quiet residential
area on the Surrey side of the river
between central Richmond and
Kingston. It was voted 'Best Village
in London' by the RHS London in
Bloom Award in 2017 and London in
Bloom Gold winner for the last three
successive years. Ham House is a
favourite National Trust property with
both residents and locals. On the first
Saturday of the month there is the Ham
Parade Market which is a combination
of artisan goods and fresh food.
Highlights: National Trust Ham House
and Garden; Ham Pond, proximity to
Richmond Park makes the area popular
with walkers; annual fair on Ham
Common in June.
Local website: www.hamandpetersham.com
Hampton Hill and Fulwell
Hampton Hill is a bustling little high
street bordered by Bushy Park. It
has many independent specialist
retailers. The thriving café culture, local
greengrocer, traditional bakery, post
office, two pharmacies and various
small supermarkets provide all the
essentials and more for suburban
village life.
Highlights: Hampton Hill Theatre, a
modern library, ethical butchers and
new shops opening regularly. Regular
Christmas and Summer events in the
High Street.
Local website: www.lovehamptonhill.com
Hampton
Hampton is a small residential area
ideally located along the River Thames.
It is a great place to spend the day
browsing the variety of shops, walking
along the river or Bushy Park.
Highlights: Close proximity to Hampton
Court Palace and Bushy Park, a
number of fairs including the Chestnut
Sunday, Hampton Carnival, and
Hampton Traders events throughout
the year.
Local website: www.hamptonvillage.org.uk
Hampton Wick
The riverside village of Hampton Wick
is bounded on three sides by the River
Thames, Hampton Court Palace Park
and Bushy Park. This small community
has a real sense of identity - and
plenty of pubs, restaurants and cafés!
Hampton Wick offers a wide variety of
quality local shops and services.The
area is becoming a specialist shopping
destination for high intensity sport such
as cycling and running.