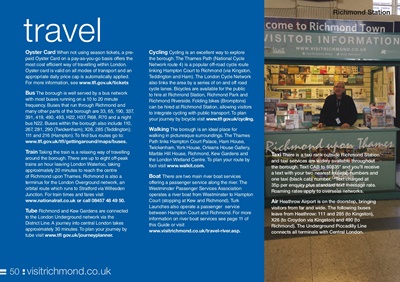 Taxi There is a taxi rank outside Richmond Station
and taxi services are widely available throughout
the borough. Text CAB to 60835* and you'll receive
a text with your two nearest minicab numbers and
one taxi (black cab) number. *Text charged at
35p per enquiry plus standard text message rate.
Roaming rates apply to overseas networks.
Air Heathrow Airport is on the doorstep, bringing
visitors from far and wide. The following buses
leave from Heathrow: 111 and 285 (to Kingston),
X26 (to Croydon via Kingston) and 490 (to
Richmond). The Underground Piccadilly Line
connects all terminals with Central London.
travelOyster Card When not using season tickets, a prepaid Oyster
Card on a pay-as-you-go basis offers the
most cost efficient way of travelling within London.
Oyster card is valid on all modes of transport and an
appropriate daily price cap is automatically applied.
For more information, see www.tfl.gov.uk/tickets
Bus The borough is well served by a bus network
with most buses running on a 10 to 20 minute
frequency. Buses that run through Richmond and
many other parts of the borough are 33, 65, 190, 337,
391, 419, 490, 493, H22, H37, R68, R70 and a night
bus N22. Buses within the borough also include 110,
267, 281, 290 (Twickenham); X26, 285 (Teddington);
111 and 216 (Hampton). To find bus routes go to:
www.tfl.gov.uk/tfl/gettingaround/maps/buses.
Train Taking the train is a relaxing way of travelling
around the borough. There are up to eight off-peak
trains an hour leaving London Waterloo, taking
approximately 20 minutes to reach the centre
of Richmond upon Thames. Richmond is also a
terminus for the London Overground network, an
orbital route which runs to Stratford via Willesden
Junction. For train times and fares visit
www.nationalrail.co.uk or call 08457 48 49 50.
Tube Richmond and Kew Gardens are connected
to the London Underground network via the
District Line. A journey into central London takes
approximately 30 minutes. To plan your journey by
tube visit www.tfl gov.uk/journeyplanner.
Cycling Cycling is an excellent way to explore
the borough. The Thames Path (National Cycle
Network route 4) is a popular off-road cycle route
linking Hampton Court to Richmond (via Kingston,
Teddington and Ham). The London Cycle Network
also links the area by a series of on and off road
cycle lanes. Bicycles are available for the public
to hire at Richmond Station, Richmond Park and
Richmond Riverside. Folding bikes (Bromptons)
can be hired at Richmond Station, allowing visitors
to integrate cycling with public transport. To plan
your journey by bicycle visit www.tfl gov.uk/cycling.
Walking The borough is an ideal place for
walking in picturesque surroundings. The Thames
Path links Hampton Court Palace, Ham House,
Twickenham, York House, Orleans House Gallery,
Marble Hill House, Richmond, Kew Gardens and
the London Wetland Centre. To plan your route by
foot visit www.walkit.com.
Boat There are two main river boat services
offering a passenger service along the river. The
Westminster Passenger Services Association
operates a river boat from Westminster to Hampton
Court (stopping at Kew and Richmond). Turk
Launches also operate a passenger service
between Hampton Court and Richmond. For more
information on river boat services see page 11 of
this Guide or visit
www.visitrichmond.co.uk/travel-river.asp.
Richmond Station
--- 50 - visitrichmond.co.uk