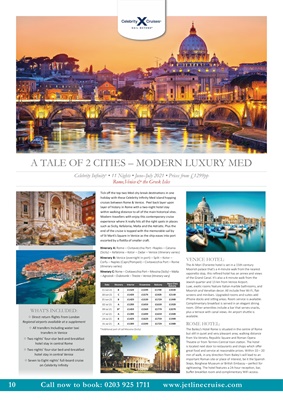 Call now to book: 0203 925 1711 www.jetlinecruise.com
10
A TALE OF 2 CITIES - MODERN LUXURY MED
Celebrity Infinity® • 11 Nights • June-July 2021 • Prices from £1299pp
Rome, Venice & the Greek Isles
WHAT'S INCLUDED:
✥ Direct return flights from London
Regional airports available at a supplement
✥ All transfers Including water taxi
transfers in Venice
✥ Two nights' four-star bed-and-breakfast
hotel stay in central Rome
✥ Two nights' four-star bed-and-breakfast
hotel stay in central Venice
✥ Seven to Eight nights' full-board cruise
on Celebrity Infinity
Tick off the top two Med city break destinations in one
holiday with these Celebrity Infinity Med island hopping
cruises between Rome & Venice. Peel back layer upon
layer of history in Rome with a two-night hotel stay
within walking distance to all of the main historical sites.
Modern travellers with enjoy this contemporary cruise
experience where X really hits all the right spots in places
such as Sicily, Kefalonia, Malta and the Adriatic. Plus the
end of the cruise is topped with the memorable sail by
of St Mark's Square in Venice as the ship eases into port
escorted by a flotilla of smaller craft.
Itinerary A: Rome - Civitavecchia Port -Naples - Catania
(Sicily) - Kefalonia - Kotor - Zadar - Venice (itinerary varies)
Itinerary B: Venice (overnight in port) - Split - Kotor -
Corfu - Naples (Capri/Pompeii) - Civitavecchia Port - Rome
(itinerary varies)
Itinerary C: Rome - Civitavecchia Port - Messina (Sicily) - Malta
- Agrostoli - Dubrovnik - Trieste - Venice (itinerary vary)
Date Itinerary Interior Oceanview Balcony Aqua Class
Balcony
11 Jun 21 B £1529 £1599 £1749 £2039
18 Jun 21 C £1439 £1579 £1929 £2149
25 Jun 21 B £1429 £1539 £1729 £1999
02 Jul 21 A £1299 £1459 £1639 £1929
09 Jul 21 B* £1459 £1569 £1779 £2079
17 Jul 21 A £1399 £1499 £1659 £1949
24 Jul 21 B £1429 £1629 £1759 £1999
31 Jul 21 A £1399 £1599 £1729 £1989
*Additional port of call Messina (Sicily)
VENICE HOTEL:
The Ai Mori D'oriente hotel is set in a 15th-century
Moorish palace that's a 4-minute walk from the nearest
vaporetto stop, this refined hotel has an annex and views
of the Grand Canal. It's also a 4-minute walk from the
Jewish quarter and 13 km from Venice Airport.
Luxe, exotic rooms feature Italian marble bathrooms, and
Moorish and Venetian decor. All include free Wi-Fi, flatscreens
and minibars. Upgraded rooms and suites add
iPhone docks and sitting areas. Room service is available.
Complimentary breakfast is served in an elegant dining
room. Other amenities include a bar that serves snacks,
plus a terrace with canal views. An airport shuttle is
available.
ROME HOTEL:
The Bailey's Hotel Rome is situated in the centre of Rome
but still in quiet and very pleasant area, walking distance
from Via Veneto, Republic Square and Roman Opera
Theatre or from Termini Central train station. The hotel
is located next door to restaurants and shops which offer
great food and service at reasonable prices. Within 10 - 20
min of walk, in any direction from Bailey's will lead to an
important Roman site or place of interest, be it the Spanish
Steps, Borghese Museum or British Embassy - perfect for
sightseeing. The hotel features a 24-hour reception, bar,
buffet breakfast room and complimentary WiFi access.