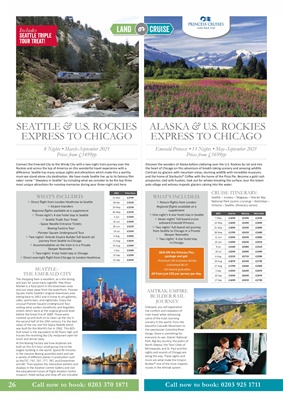 SEATTLE & U.S. ROCKIES
EXPRESS TO CHICAGO
8 Nights • March-September 2021
Prices from £1499pp
Connect the Emerald City to the Windy City with a two-night train journey over the
Rockies and across the top of America on this wonderful travel experience with a
difference. Seattle has many unique sights and attractions which make this a worthy
must-see stand-alone city destination. We have made Seattle live up to its famous film
sakes' name " Sleepless in Seattle" by including what we consider to be the top three
most unique attractions for nonstop memories during your three-night visit here.
WHAT'S INCLUDED:
✥ Direct flight from London Heathrow to Seattle
✥ Airport transfers
Regional flights available at a supplement
✥ Three night's 4-star hotel stay in Seattle
✥ Seattle Triple Tour Treat:
- Space Needle Entrance Tickets
- Boeing Factory Tour
- Pioneer Square Underground Tour
✥ Two nights' Amtrak Empire Builder full-board rail
journey from Seattle to Chicago
✥ Accommodation on the train is in a Private
Sleeper Roomette
✥ Two nights' 4-star hotel stay in Chicago
✥ Direct overnight flight from Chicago to London Heathrow
ALASKA & U.S. ROCKIES
EXPRESS TO CHICAGO
Emerald Princess • 13 Nights • May-September 2021
Prices from £1789pp
Discover the wonders of Alaska before clattering over the U.S. Rockies by rail and into
the heart of Chicago on this adventure of breath-taking scenery and amazing wildlife.
Contrast icy glaciers with mountain vistas, stunning wildlife with incredible museums
and the home of Starbucks® Coffee with the home of the Pizza Pie. Become a gold rush
prospector, sled with huskies, look out for whales breaking the surface, tour the totem
pole village and witness majestic glaciers calving into the water.
SEATTLE -
THE EMERALD CITY
The shopping here is excellent, as is the dining
and bars for some lively nightlife. Pike Place
Market is a focal point in the downtown area
and just steps away from the waterfront. Pioneer
Square marks Seattle's original downtown area
dating back to 1852 and is home to art galleries,
cafes, sports bars, and nightclubs. Enjoy the
unusual Pioneer Square Underground Tour
visiting eerie sunken storefronts and forgotten
streets which were at the original ground level
before the Great Fire of 1889. These were
covered up and built on to clean up the city in
the second half of the 19th century. For the best
views of the city visit the Space Needle which
was built for the World's Fair in 1962. This 605-
foot tower is the equivalent to 60 floors high and
houses the revolving Sky City restaurant open for
lunch and dinner daily.
At the Boeing Factory see how airplanes are
built on this 4.5-hour small-group trip to the
largest building in the world. Spend 90 minutes
in the massive Boeing assembly plant and see
a variety of different planes in production such
as the737, 747, 767, 777, 787, and Dreamliner
aircraft. Then explore the interactive exhibits and
displays in the Aviation Centre Gallery and visit
the educational Future of Flight Aviation Centre
museum. Hotel pickup and drop-off are included.
2021 Price from
31 Mar £1799
28 Apr £1539
19 May £1539
26 May £1539
2 Jun £1569
16 Jun £1499
30 Jun £1529
14 Jul £1549
4 Aug £1660
11 Aug £1659
25 Aug £1499
1 Sep £1589
15 Sep £1599
22 Sep £1659
CRUISE ITINERARY:
Seattle - Juneau - Skagway - Glacier Bay
National Park (scenic cruising) - Ketchikan -
Victoria - Seattle. (Itinerary varies)
LAND or CRUISE
WHAT'S INCLUDED:
✥ Return flights from London
Regional flights available at a
supplement
✥ One night's 4-star hotel stay in Seattle
✥ Seven nights' full-board cruise
onboard Emerald Princess
✥ Two nights' full-board rail journey
from Seattle to Chicago in a Private
Sleeper Roomette
✥ Two nights' 4-star hotel stay
in Chicago
ADD ON the Princess Plus
package and get:
- Premium All-inclusive drinks
- Unlimited Wi-Fi
- On-board gratuities
All from just £35 per person per day.
Call now to book: 0203 370 1871 Call now to book: 0203 925 1711
26 Includes
Seattle Triple
Tour Treat!
2021 Interior Balcony Mini Suite
7 May £1789 £2479 £2749
14 May £1999 £2599 £2919
21 May £1989 £2679 £2999
28 May £1979 £2599 £2829
11 Jun £2059 £2699 £2989
25 Jun £2159 £2799 £3089
9 Jul £2249 £3066 £3479
30 Jul £2289 £3099 £3479
6 Aug £2159 £2776 £2999
20 Aug £1989 £2579 £2769
27 Aug £2059 £2779 £3064
3 Sep £2069 £2749 £2999
10 Sep £1999 £2699 £2979
17 Sep £1889 £2589 £2859
AMTRAK EMPIRE
BUILDER RAIL
JOURNEY
Onboard, you will experience
the comfort and relaxation of
train travel while witnessing
some of the most stunning
scenery in the world. From the
beautiful Cascade Mountains to
the spectacular Columbia River
Gorge, there is something for
everyone to see. Glacier National
Park, Big Sky country, the plains of
North Dakota, the Twin Cities of
Minneapolis and St. Paul and the
sights and sounds of Chicago are
along the way. These sights and
more are what make the Empire
Builder® one of the most majestic
routes in the Amtrak system.