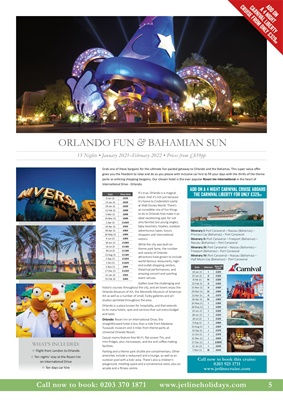 Call now to book: 0203 370 1871 www.jetlineholidays.com 5
ORLANDO FUN & BAHAMIAN SUN
15 Nights • January 2021-February 2022 • Prices from £839pp
WHAT'S INCLUDED:
✥ Flight from London to Orlando
✥ Ten nights' stay at the Rosen Inn
on International Drive
✥ Ten days car hire
Grab one of these bargains for the ultimate fun-packed getaway to Orlando and the Bahamas. This super value offer
gives you the freedom to relax and do as you please with inclusive car hire to fill your days with the thrills of the theme
parks or enticing shopping bargains. Our chosen hotel is the ever popular Rosen Inn International in the heart of
International Drive - Orlando.
It's true, Orlando is a magical
place. And it's not just because
it's home to Cinderella's castle
at Walt Disney World. There's
an incredible mix of fun things
to do in Orlando that make it an
ideal vacationing spot for not
only families but young singles,
baby boomers, foodies, outdoor
adventurous types, luxury
shoppers and international
visitors.
While the city was built on
theme park fame, the number
and variety of Orlando
attractions have grown to include
world-famous restaurants, highend
outlet shopping centers,
theatrical performances, and
amazing concert and sporting
event venues.
Golfers love the challenging and
historic courses throughout the city, and art-lovers enjoy the
Orlando Museum of Art, the Mennello Museum of American
Art as well as a number of small, funky galleries and art
studios sprinkled throughout the area.
Orlando is a place known for hospitality, and that extends
to its many hotels, spas and services that suit every budget
and taste.
Orlando: Rosen Inn on International Drive, this
straightforward hotel is less than a mile from Madame
Tussauds museum and 3 miles from theme parks at
Universal Orlando Resort.
Casual rooms feature free Wi-Fi, flat-screen TVs, and
mini-fridges, plus microwaves, and tea and coffee-making
facilities.
Parking and a theme park shuttle are complimentary. Other
amenities include a restaurant and a lounge, as well as an
outdoor pool with a kids' area. There's also a children's
playground, meeting space and a convenience store, plus an
arcade and a fitness centre.
Itinerary I: Port Canaveral - Nassau (Bahamas) -
Princess Cay (Bahamas) - Port Canaveral
Itinerary II: Port Canaveral - Freeport (Bahamas) -
Nassau (Bahamas) - Port Canaveral
Itinerary III: Port Canaveral - Nassau (Bahamas) -
Freeport (Bahamas) - Port Canaveral
Itinerary IV: Port Canaveral - Nassau (Bahamas) -
Half Moon Cay (Bahamas) - Port Canaveral
Date Itinerary Price PP
From
18 Jan 21 I £329
25 Jan 21 II £329
8 Feb 21 IV £339
22 Feb 21 II £339
15 Mar 21 II £439
29 Mar 21 IV £449
12 Apr 21 II £379
26 Apr 21 IV £369
10 May 21 I £399
28 May 21 I £499
14 Jun 21 I £529
28 Jun 21 I £529
26 Jul 21 I £529
9 Aug 21 I £469
23 Aug 21 I £429
13 Sep 21 I £379
11 Oct 21 I £379
15 Nov 21 I £369
27 Dec 21 I £5899
31 Jan 22 I £349
7 Mar 21 III £459
Call now to book this cruise:
0203 925 1711
Add on a 4 night Carnival Cruise Aboard
The Carnival Liberty For Only £329pp
Date Price from
8 Jan 21 £839
15 Jan 21 £839
29 Jan 21 £839
12 Feb 21 £899
5 Mar 21 £899
19 Mar 21 £899
2 Apr 21 £1029
16 Apr 21 £939
30 Apr 21 £969
18 May 21 £999
4 Jun 21 £999
18 Jun 21 £1069
16 Jul 21 £1189
30 Jul 21 £1189
13 Aug 21 £1189
3 Sep 21 £1059
1 Oct 21 £1029
5 Nov 21 £999
17 Dec 21 £1259
21 Jan 22 £929
25 Feb 22 £949
Add on
a 4 night
CARNIVAL LIBERTY
cruise from only £329pp