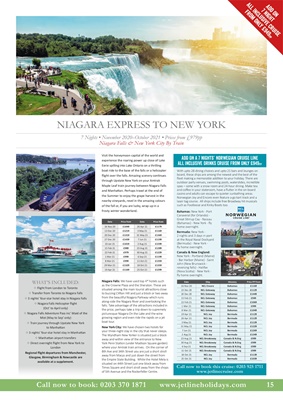 Call now to book: 0203 370 1871 www.jetlineholidays.com 15
Bahamas: New York - Port
Canaveral (for Orlando) -
Great Stirrup Cay - Nassau
(Bahamas) - New York - fly
home overnight.
Bermuda: New York -
2 nights and 3 days in port
at the Royal Naval Dockyard
(Bermuda) - New York -
fly home overnight.
Canada & New England:
New York - Portland (Maine)
- Bar Harbor (Maine) - Saint
John (New Brunswick -
reversing falls) - Halifax
(Nova Scotia) - New York -
fly home overnight.
WHAT'S INCLUDED:
✥ Flight from London to Toronto
✥ Transfer from Toronto to Niagara Falls
✥ 3 nights' four-star hotel stay in Niagara Falls
✥ Niagara Falls Helicopter flight
(Oct' to April only)
✥ Niagara Falls Adventure Pass inc' Maid of the
Mist (May to Sep' only)
✥ Train journey through Upstate New York
to Manhattan
✥ 3 nights' four-star hotel stay in Manhattan
✥ Manhattan airport transfers
✥ Direct overnight flight from New York to
London
Regional flight departures from Manchester,
Glasgow, Birmingham & Newcastle are
available at a supplement.
NIAGARA EXPRESS TO NEW YORK
7 Nights • November 2020-October 2021 • Prices from £979pp
Niagara Falls & New York City By Train
Date Price from Date Price from
16 Nov 20 £1049 26 Apr 21 £1179
13 Dec 20 £1219 3 May 21 £1169
20 Dec 20 £1319 31 May 21 £1369
27 Dec 20 £1439 7 Jun 21 £1199
10 Jan 21 £1019 2 Aug 21 £1599
15 Feb 21 £989 23 Aug 21 £1289
22 Feb 21 £979 30 Aug 21 £1229
1 Mar 21 £999 6 Sep 21 £1199
8 Mar 21 £999 11 Oct 21 £1359
29 Mar 21 £1329 18 Oct 21 £1359
19 Apr 21 £1169 25 Oct 21 £1299
Niagara Falls: We have used top 4* hotels such
as the Crowne Plaza and the Sheraton. These are
situated among the main tourist attractions close
to buzzing Clifton Hill and just a block or two away
from the beautiful Niagara Parkway which runs
along-side the Niagara River and overlooking the
falls. Take advantage of the attractions included in
the price, perhaps take a trip down to supremely
picturesque Niagara On the Lake and the wine
growing region and even ride the rapids on a jet
boat tour.
New York City: We have chosen two hotels for
your three-night stay in the city that never sleeps.
The Wyndham New Yorker is situated just a block
away and within view of the entrance to New
York Penn Station (under Madison Square garden)
where your Amtrak train arrives. On the corner of
8th Ave and 34th Street you are just a short stroll
away from Macys and just down the street from
the Empire State Building. While the Hotel Mela is
situated on 44th Street just one block away from
Times Square and short stroll away from the shops
of 5th Avenue and the Rockerfeller Centre.
Visit the honeymoon capital of the world and
experience the roaring power up close of Lake
Eerie spilling into Lake Ontario on a thrilling
boat ride to the base of the falls or a helicopter
flight over the falls. Amazing scenery continues
through Upstate New York on your Amtrak
Maple Leaf train journey between Niagara Falls
and Manhattan. Perhaps travel at the end of
the Summer to enjoy the grape harvest in the
nearby vineyards, revel in the amazing colours
of the fall or, if you are lucky, wrap up in a
frosty winter wonderland.
With upto 28 dining choices and upto 21 bars and lounges on
board, these ships are among the newest and the best of the
fleet making a memorable addition to your holiday. There are
outdoor party venues, swimming pools, waterslides, incredible
spas - some with a snow room and 24-hour dining. Make tea
and coffee in your stateroom, have a flutter in the on-board
casino and adults can escape to quieter sunbathing areas.
Norwegian Joy and Encore even feature a go kart track and a
laser tag course. All ships include free Broadway hit musicals
such as Footloose and Kinky Boots too.
Date Ship Itinerary Price PP From
16 Nov 20 NCL Encore Bahamas £1169
13 Dec 20 NCL Getaway Bahamas £1129
20 Dec 20 NCL Getaway Bahamas £1449
15 Feb 21 NCL Getaway Bahamas £949
22 Feb 21 NCL Getaway Bahamas £1069
1 Mar 21 NCL Getaway Bahamas £999
8 Mar 21 NCL Getaway Bahamas £1049
19 Apr 21 NCL Joy Bermuda £1129
26 Apr 21 NCL Joy Bermuda £1129
3 May 21 NCL Joy Bermuda £1129
31 May 21 NCL Joy Bermuda £1229
7 Jun 21 NCL Joy Bermuda £1269
2 Aug 21 NCL Joy Bermuda £1349
23 Aug 21 NCL Breakaway Canada & N.Eng £999
30 Aug 21 NCL Breakaway Canada & N.Eng £999
6 Sep 21 NCL Breakaway Canada & N.Eng £999
11 Oct 21 NCL Breakaway Canada & N.Eng £999
18 Oct 21 NCL Joy Bermuda £1139
25 Oct 21 NCL Joy Bermuda £1039
Call now to book this cruise: 0203 925 1711
ADD ON A 7 Nights' Norwegian Cruise Line
All Inclusive Drinks Cruise From Only £949pp Add on
7 night
All Inclusive cruise
from only £949pp