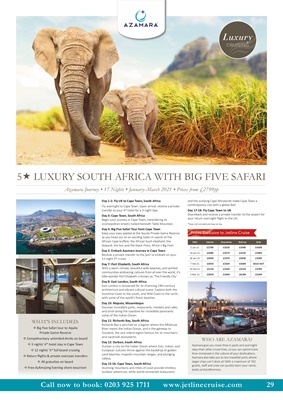 Call now to book: 0203 925 1711 www.jetlinecruise.com 29
Day 1-2: Fly UK to Cape Town, South Africa
Fly overnight to Cape Town. Upon arrival, receive a private
transfer to your 4* hotel for a 3-night stay.
Day 3: Cape Town, South Africa
Begin your journey in Cape Town, meandering its
cosmopolitan streets tucked beneath Table Mountain.
Day 4: Big Five Safari Tour from Cape Town
Keep your eyes peeled at the Aquila Private Game Reserve
as you head out on an exciting Safari in search of the
African Cape buffalo, the African bush elephant, the
leopard, the lion and the black rhino, Africa´s Big Five!
Day 5: Embark Azamara Journey in Cape Town
Receive a private transfer to the port to embark on your
12-night 5* cruise.
Day 7: Port Elizabeth, South Africa
With a warm climate, beautiful wide beaches, and spirited
communities embracing cultures from all over the world, it's
little wonder Port Elizabeth is known as 'The Friendly City'.
Day 8: East London, South Africa
East London is renowned for its charming 19th-century
architecture and vibrant cultural scene. Explore both the
Sunshine Coast to the south, and Wild Coast to the north,
with some of the world's finest beaches.
Day 10: Maputo, Mozambique
Discover incredible parks, restaurants, markets and cafes,
and stroll along the coastline for incredible panoramic
vistas of the Indian Ocean.
Day 11: Richards Bay, South Africa
Richards Bay is perched on a lagoon where the Mhlatuze
River meets the Indian Ocean, and is the gateway to
Zululand, the vast inland region famous for its mountains
and savannah ecosystems.
Day 12: Durban, South Africa
Durban is city on the Indian Ocean where Zulu, Indian, and
European cultures thrive against the backdrop of golden
sand beaches, majestic mountain ranges, and plunging
valleys.
Day 15-16: Cape Town, South Africa
Stunning mountains and miles of coast provide limitless
outdoor adventure, while world-renowned restaurants
and the outlying Cape Winelands make Cape Town a
contemporary city with a global feel.
Day 17-18: Fly Cape Town to UK
Disembark and receive a private transfer to the airport for
your return overnight flight to the UK.
5« LUXURY SOUTH AFRICA WITH BIG FIVE SAFARI
Azamara Journey • 17 Nights • January-March 2021 • Prices from £2799pp
WHAT'S INCLUDED:
✥ Big Five Safari tour to Aquila
Private Game Reserve
✥ Complimentary unlimited drinks on board
✥ 3 nights' 4* hotel stay in Cape Town
✥ 12 nights' 5* full board cruising
✥ Return flights & private overseas transfers
✥ All gratuities on board
✥ Free AzAmazing Evening shore excursion
2021 Interior Oceanview Balcony Suite
2 Jan 21 £2799 £3329 £3949 £4599
14 Jan 21 £3089 £3379 £4229 £5099
26 Jan 21 £3099 £3379 £3949 £4399
7 Feb 21 £3059 £3329 £3489 SOLD OUT
19 Feb 21 £3139 £3339 £3529 £4799
3 Mar 21 £3059 £3349 £4189 £5249
Luxury
CRUISING
*Days not included are days at sea.
WHO ARE AZAMARA?
Azamara give you more time in ports and overnight
stays than other cruise lines, so you can spend more
time immersed in the culture of your destinations.
Azamara also take you to less travelled ports where
larger ships can't dock at! With a maximum of 702
guests, staff and crew can quickly learn your name,
tastes and preferences.
Prices Exclusive to Jetline Cruise