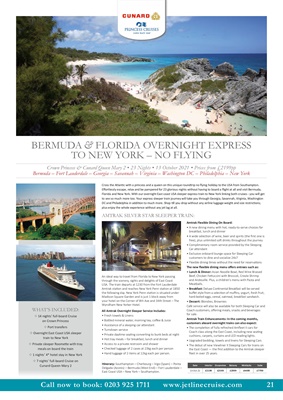 Call now to book: 0203 925 1711 www.jetlinecruise.com 21
WHAT'S INCLUDED:
✥ 14 nights' full-board Cruise
on Crown Princess
✥ Port transfers
✥ Overnight East Coast USA sleeper
train to New York
✥ Private sleeper Roomette with tray
meals on board the train
✥ 1 nights' 4* hotel stay in New York
✥ 7 nights' full-board Cruise on
Cunard Queen Mary 2
Cross the Atlantic with a princess and a queen on this unique roundtrip no flying holiday to the USA from Southampton.
Effortlessly escape, relax and be pampered for 23 glorious nights without having to board a flight at all and visit Bermuda,
Florida and New York. With our overnight East coast USA sleeper express train to New York linking both cruises - you will get
to see so much more too. Your express sleeper train journey will take you through Georgia, Savannah, Virginia, Washington
DC and Philadelphia in addition to much more. Shop till you drop without any airline luggage weight and size restrictions;
plus enjoy the whole experience without any jet lag at all.
Date Interior Oceanview Balcony MiniSuite Suite
13 Oct 21 £2199 £2699 £3099 £4499 £7799
BERMUDA & FLORIDA OVERNIGHT EXPRESS
TO NEW YORK - NO FLYING
Crown Princess & Cunard Queen Mary 2 • 23 Nights • 13 October 2021 • Prices from £2199pp
Bermuda - Fort Lauderdale - Georgia - Savannah - Virginia - Washington DC - Philadelphia - New York
An ideal way to travel from Florida to New York passing
through the scenery, sights and delights of East Coast
USA. The train departs at 1230 from the Fort Lauderdale
Amtrak station and reaches New York Penn station at 1850
the following day. New York Penn station is situated under
Madison Square Garden and is just 1 block away from
your hotel on the Corner of 8th Ave and 34th Street - The
Wyndham New Yorker Hotel.
All Amtrak Overnight Sleeper Service Includes:
• Fresh towels & Linens
• Bottled mineral water, morning tea, coffee & Juice.
• Assistance of a sleeping car attendant
• Turndown service
• Private daytime seating converting to bunk beds at night
• Hot tray meals - for breakfast, lunch and dinner.
• Access to a private restroom and shower
• Checked luggage of 2 cases at 23kg each per person
• Hand luggage of 2 items at 12kg each per person
Amtrak Flexible Dining On Board:
• A new dining menu with hot, ready-to-serve choices for
breakfast, lunch and dinner
• A wide selection of wine, beer and spirits (the first one is
free), plus unlimited soft drinks throughout the journey
• Complimentary room service provided by the Sleeping
Car attendant
• Exclusive onboard lounge space for Sleeping Car
customers to dine and socialize 24x7
• Flexible dining times without the need for reservations
The new flexible dining menu offers entrees such as:
• Lunch & Dinner: Asian Noodle Bowl, Red Wine Braised
Beef, Chicken Fettuccini with Broccoli, Creole Shrimp
and Andouille. Plus, a children's menu with Pasta and
Meatballs.
• Breakfast: Deluxe Continental Breakfast will be served
buffet style from a selection of muffins, yogurt, fresh fruit,
hard-boiled eggs, cereal, oatmeal, breakfast sandwich.
• Dessert: Blondies, Brownies
Café service will also be available for both Sleeping Car and
Coach customers, offering meals, snacks and beverages
for sale.
Amtrak Train Enhancements: In the coming months,
customers aboard overnight trains can also expect:
• The completion of fully refreshed Amfleet II cars for
Coach class along the East Coast, including new seating
cushions, carpets, curtains and LED reading lights.
• Upgraded bedding, towels and linens for Sleeping Cars
• The debut of new Viewliner II Sleeping Cars for trains on
the East Coast - the first addition to the Amtrak sleeper
fleet in over 25 years.
Itinerary: Southampton - Cherbourg - Vigo (Spain) - Ponta
Delgada (Azores) - Bermuda (West End) - Fort Lauderdale -
East Coast USA - New York - Southampton.
AMTRAK SILVER STAR SLEEPER TRAIN: