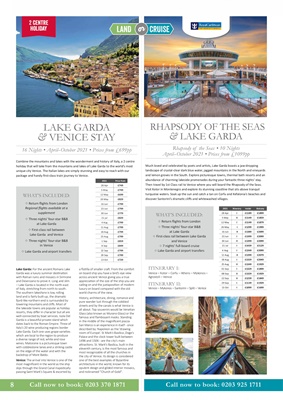 Call now to book: 0203 370 1871 www.jetlineholidays.com
Call now to book: 0203 370 1871 Call now to book: 0203 925 1711
8
LAKE GARDA
& VENICE STAY
16 Nights • April-October 2021 • Prices from £699pp
Combine the mountains and lakes with the wonderment and history of Italy, a 2 centre
holiday that will take from the mountains and lakes of Lake Garda to the world's most
unique city Venice. The Italian lakes are simply stunning and easy to reach with our
package and handy first-class train journey to Venice.
WHAT'S INCLUDED:
✥ Return flights from London
Regional flights available at a
supplement
✥ Three nights' four-star B&B
at Lake Garda
✥ First-class rail between
Lake Garda and Venice
✥ Three nights' four-star B&B
in Venice
✥ Lake Garda and airport transfers
RHAPSODY OF THE SEAS
& LAKE GARDA
Rhapsody of the Seas • 10 Nights
April-October 2021 • Prices from £1099pp
Much loved and celebrated by poets and artists, Lake Garda boasts a jaw-dropping
landscape of crystal-clear dark blue water, jagged mountains in the North and vineyards
and lemon groves in the South. Explore picturesque towns, thermal bath resorts and an
abundance of charming lakeside promenades during your fantastic three nights' stay.
Then travel by 1st Class rail to Venice where you will board the Rhapsody of the Seas.
Visit Kotor in Montenegro and explore its stunning coastline that sits above tranquil
turquoise waters. Soak up the sun and catch a tan on Corfu and Kefalonia's beaches and
discover Santorini's dramatic cliffs and whitewashed villages.
Lake Garda: For the ancient Romans Lake
Garda was a luxury summer destination
with Roman ruins and mosaics in Sirmione
and Desenzano to prove it. Long and slim
- Lake Garda is located in the north-east
of Italy, stretching from north to south.
The southern lakeshore is low, rolling
land and is fairly built-up, the dramatic
fjord-like northern end is surrounded by
towering mountains and cliffs. Most of
the lakeside towns are popular as holiday
resorts, they differ in character but all are
well-connected by boat services. Isola Del
Garda is a beautiful private island which
dates back to the Roman Empire. Three of
Italy's 20 wine producing regions border
Lake Garda. Each one uses grape varieties
which are local to the region to produce
a diverse range of red, white and rose
wines. Malcesine is a picturesque town
with cobblestone lanes and a striking castle
on the edge of the water and with the
backdrop of Mont Baldo.
Venice: The arrival into Venice is one of the
most magnificent in the world as the ship
slips through the Grand Canal majestically
passing Saint Mark's Square & escorted by
a flotilla of smaller craft. From the comfort
on board ship you have a bird's eye view
across ancient Venice giving you a true
appreciation of the size of the ship you are
sailing on and the juxtaposition of modern
luxury on board compared with the old
world charms of the view.
History, architecture, dining, romance and
pure wander lust through the cobbled
streets and by the canals is what Venice is
all about. Top souvenirs would be Venetian
Glass (also known as Murano Glass) or the
famous and flamboyant masks. Standing
in the middle of the magnificent piazza
San Marco is an experience in itself - once
described by: Napoleon as the 'drawing
room of Europe'. St Mark's Basilica ,Doge's
Palace and the clock tower built between
1496 and 1506 - are the city's main
attractions. St. Mark's Basilica, built in the
eleventh century, is the most famous and
most recognizable of all the churches in
the city of Venice. Its design is considered
one of the best examples of Byzantine
architecture in the world, known for its
opulent design and gilded interior mosaics,
and nicknamed "Church of Gold".
ITINERARY I:
Venice - Kotor - Corfu - Athens - Mykonos -
Agrostoli - Venice
ITINERARY II:
Venice - Mykonos - Santorini - Split - Venice
LAND or CRUISE
WHAT'S INCLUDED:
✥ Return flights from London
✥ Three nights' four-star B&B
at Lake Garda
✥ First-class rail between Lake Garda
and Venice
✥ 7 nights' full-board cruise
✥ Lake Garda and airport transfers
2021 Price from
28 Apr £749
5 May £749
12 May £699
26 May £829
16 Jun £799
23 Jun £799
30 Jun £779
21 jul £829
4 Aug £799
11 Aug £799
18 Aug £799
25 Aug £799
1 Sep £859
8 Sep £849
22 Sep £799
29 Sep £799
13 Oct £729
2021 Itinerary Inside Balcony
28 Apr I £1189 £1899
5 May II £1149 £1859
12 May I £1149 £1879
26 May I £1299 £1999
16 Jun II £1389 £2099
23 Jun I £1399 £2099
30 Jun II £1399 £2099
21 Jul I £1439 £2129
4 Aug I £1349 £2099
11 Aug II £1399 £2079
18 Aug I £1329 £2049
25 Aug II £1349 £1929
01 Sep I £1329 £1899
08 Sep II £1329 £1929
22 Sep II £1239 £1849
29 Sep I £1139 £1929
13 Oct I £1099 £1699
2 centre
holiday