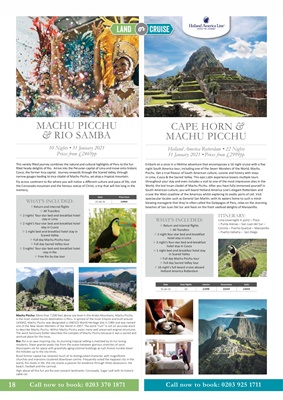 MACHU PICCHU
& RIO SAMBA
10 Nights • 31 January 2021
Prices from £2469pp
This variety filled journey combines the natural and cultural highlights of Peru to the fun
filled heady delights of Rio. Arrive into the Peruvian capital of Lima and move onto historic
Cusco, the former Inca capital. Journey onwards through the Scared Valley, through
narrow gouges leading to Inca citadel of Machu Picchu, set atop a tropical mountain.
Fly across continent to Rio where you will notice a different culture and pace of life, visit
the Corcovado mountain and the famous statue of Christ, a trip that will live long in the
memory.
WHAT'S INCLUDED:
✥ Return and internal flights
✥ All Transfers
✥ 2 nights' four-star bed-and-breakfast hotel
stay in Lima
✥ 2 night's four-star bed-and-breakfast hotel
stay in Cusco
✥ 1 night bed-and-breakfast hotel stay in
Scared Valley
✥ Full day Machu Picchu tour
✥ Full day Sacred Valley tour
✥ 3 nights' four-star bed-and-breakfast hotel
stay in Rio
✥ Free Rio by day tour
CAPE HORN &
MACHU PICCHU
Holland America Rotterdam • 22 Nights
31 January 2021 • Prices from £2999pp
Embark on a once in a lifetime adventure that encompasses a 16 night cruise with a five
night South America tour; including one of the Seven Wonders of the World, Machu
Picchu. Get a true flavour of South American culture, cuisine and history with stays
in Lima, Cusco & the Sacred Valley. This epic Latin experience boasts multiple tours
throughout your stay and even includes a visit to one of the most impressive sites in the
World, the lost Incan citadel of Machu Picchu. After you have fully immersed yourself in
South American culture, you will board Holland America Line's elegant Rotterdam and
cruise the West coastline of the Americas whilst exploring its exotic ports of call. Visit
spectacular locales such as General San Martin; with its waters home to such a mindblowing
menagerie that they're often called the Galápagos of Peru, relax on the stunning
beaches of San Juan Del Sur and feast on the fresh seafood delights of Manzanillo.
Machu Picchu: More than 7,000 feet above sea level in the Andes Mountains, Machu Picchu
is the most visited tourist destination in Peru. A symbol of the Incan Empire and built around
1450AD, Machu Picchu was designated a UNESCO World Heritage Site in 1983 and was named
one of the New Seven Wonders of the World in 2007. The word "ruin" is not an accurate word
to describe Machu Picchu. Within Machu Picchu exists many well preserved original structures.
The word Sanctuary better describes the complex of Machu Picchu because it was a sacred and
spiritual place for the Incas.
Rio: Rio is an awe-inspiring city; its stunning tropical setting is matched by its fun loving
residents. Sheer granite peaks rise from the ocean between glorious stretches of sand.
Skyscrapers vie for space with gracefully aging colonial buildings as lush forests tumble down
the hillsides up to the city limits.
Brazil former capital has retained much of its distinguished character, with magnificent
churches and mansions clustered downtown centre. Frequently voted the happiest city in the
world, Rio revels in life, the city shares a passion for existence through three obsessions: the
beach, football and the carnival.
High above all this fun are Rio ever present landmarks: Corcovado, Sugar Loaf with its historic
cable car.
Date Price from
31 Jan 21 £2469
ITINERARY:
Lima (overnight in port) - Pisco
- Punta Arenas - San Juan del Sur -
Corinto - Puerto Quetzal - Manzanillo
- Puerto Vallarta - San Diego
Date Total Nights Interior Oceanview Suite
31 Jan 21 22 £2999 £3269 £4359
Call now to book: 0203 370 1871 Call now to book: 0203 925 1711
LAND or CRUISE
18
WHAT'S INCLUDED:
✥ Return and internal flights
✥ All Transfers
✥ 2 night four-star bed-and-breakfast
hotel stay in Lima
✥ 2 night's four-star bed-and-breakfast
hotel stay in Cusco
✥ 1 night bed-and-breakfast hotel stay
in Scared Valley
✥ Full day Machu Picchu tour
✥ Full day Sacred Valley tour
✥ 16 night's full-board cruise aboard
Holland America Rotterdam