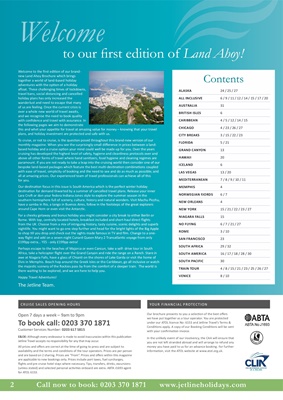 2 Call now to book: 0203 370 1871 www.jetlineholidays.com
Open 7 days a week - 9am to 9pm
To book call: 0203 370 1871
Customer Services Number: 0203 617 5815
E&OE: Although every endeavour is made to avoid inaccuracies within this publication
Jetline Travel accepts no responsibility for any that may occur.
All prices and offers are correct at the time of going to press and are subject to
availability and the terms and conditions of the tour operators. Prices are per person
and are based on 2 sharing. Prices are "From". Prices and offers within this magazine
are applicable to new bookings only. Prices include port taxes, fuel surcharges,
flights and pre cruise hotel stays where necessary. Tips, transfers, drinks, excursions
(unless stated) and selected personal activities onboard are extra. ABTA J1693 agent
for ATOL 6153.
CRUISE SALES OPENING HOURS
Our brochure presents to you a selection of the best offers
we have put together as a tour operator. You are protected
under our ATOL licence No: 6153 and Jetline Travel's Terms &
Conditions apply. A copy of our Booking Conditions will be sent
with your confirmation invoice.
In the unlikely event of our insolvency, the CAA will ensure that
you are not left stranded abroad and will arrange to refund any
money you have paid to us for an advance booking. For further
information, visit the ATOL website at www.atol.org.uk.
YOUR FINANCIAL PROTECTION
Welcome to the first edition of our brandnew
Land Ahoy Brochure which brings
together a world of land-based holiday
adventures with the option of a holiday
afloat. These challenging times of lockdowns,
travel bans, social distancing and cancelled
holiday plans has only increased the
wanderlust and need to escape that many
of us are feeling. Once the current crisis is
over a whole new world of travel awaits,
and we recognise the need to book quality
with confidence and travel with assurance. In
the following pages we aim to demonstrate
this and whet your appetite for travel at amazing value for money - knowing that your travel
plans, and holiday investment are protected and safe with us.
To cruise, or not to cruise, is the question posed throughout this brand-new version of our
monthly magazine. When you see the surprisingly small difference in prices between a landbased holiday
and a cruise option your mind could well be made up for you. Over the years
cruising has developed the highest level of safety, hygiene and cleanliness protocols over and
above all other forms of travel where hand sanitizers, food hygiene and cleaning regimes are
paramount. If you are not ready to take a leap into the cruising world then consider one of our
bespoke land-based packages which feature the best multi-destination combinations coupled
with ease of travel, simplicity of booking and the need to see and do as much as possible; and
all at amazing prices. Our experienced team of travel professionals can achieve all of this
for you.
Our destination focus in this issue is South America which is the perfect winter holiday
destination for demand thwarted by a summer of cancelled travel plans. Release your inner
Lara Croft or don your fedora Indiana Jones style to explore the summer season in the
southern hemisphere full of scenery, culture, history and natural wonders. Visit Machu Picchu,
have a samba in Rio, a tango in Buenos Aires, follow in the footsteps of the great explorers
around Cape Horn or even visit the Antarctic.
For a cheeky getaway and bonus holiday you might consider a city break to either Berlin or
Rome. With top, centrally located hotels, breakfast included and short-haul direct flights
from the UK. Choose from a mix of intriguing history, tasty cuisine, scenic delights and superb
nightlife. You might want to go one step further and head for the bright lights of the Big Apple
to shop till you drop and check out the sights made famous in TV and film. Change to a oneway
flight and add on a seven-night Cunard Queen Mary 2 Transatlantic voyage from only
£199pp extra... YES - only £199pp extra!
Perhaps escape to the beaches of Majorca or even Cancun, take a self- drive tour in South
Africa, take a helicopter flight over the Grand Canyon and ride the range on a Ranch. Stare in
awe at Niagara Falls, have a glass of Chianti on the shores of Lake Garda or visit the home of
Elvis in Memphis. Beach hop around the Greek Isles or the Caribbean, go all inclusive or watch
the majestic scenery of the Rockies pass by from the comfort of a sleeper train. The world is
there waiting to be explored, and we are here to help you.
Happy Travel Adventures!
The Jetline Team. to our first edition of Land Ahoy!
Welcome
ALASKA 24 / 25 / 27
ALL INCLUSIVE 6 / 9 / 11 / 12 / 14 / 15 / 17 / 20
AUSTRALIA 31
BRITISH ISLES 6
CARIBBEAN 4 / 5 / 12 / 14 / 15
CHICAGO 4 / 23 / 26 / 27
CITY BREAKS 3 / 15 / 22 / 23
FLORIDA 5 / 21
GRAND CANYON 13
HAWAII 20
ICELAND 6
LAS VEGAS 13 / 20
MEDITERRANEAN 7 / 8 / 9 / 10 / 11
MEMPHIS 4
NORWEGIAN FJORDS 6 / 7
NEW ORLEANS 4
NEW YORK 15 / 21 / 22 / 23 / 27
NIAGARA FALLS 15
NO FLYING 6 / 7 / 21 / 27
ROME 3 / 10
SAN FRANCISCO 23
SOUTH AFRICA 29 / 32
SOUTH AMERICA 16 / 17 / 18 / 28 / 30
SOUTH PACIFIC 30
TRAIN TOUR 4 / 8 / 15 / 21 / 23 / 25 / 26 / 27
VENICE 8 / 10
Contents