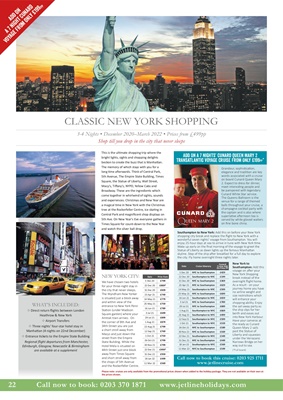 22 Call now to book: 0203 370 1871 www.jetlineholidays.com
NEW YORK CITY:
We have chosen two hotels
for your three-night stay in
the city that never sleeps.
The Wyndham New Yorker
is situated just a block away
and within view of the
entrance to New York Penn
Station (under Madison
Square garden) where your
Amtrak train arrives. On
the corner of 8th Ave and
34th Street you are just
a short stroll away from
Macys and just down the
street from the Empire
State Building. While the
Hotel Mela is situated on
44th Street just one block
away from Times Square
and short stroll away from
the shops of 5th Avenue
and the Rockerfeller Centre.
WHAT'S INCLUDED:
✥ Direct return flights between London
Heathrow & New York
✥ Airport Transfers
✥ Three nights' four-star hotel stay in
Manhattan (4 nights on 22nd December)
✥ Entrance tickets to the Empire State Building
Regional flight departures from Manchester,
Edinburgh, Glasgow, Newcastle & Birmingham
are available at a supplement
This is the ultimate shopping trip where the
bright lights, sights and shopping delights
beckon to create the buzz that is Manhattan.
The memory of which stays with you for a
long time afterwards. Think of Central Park,
5th Avenue, The Empire State Building, Times
Square, the Statue of Liberty, Wall Street,
Macy's, Tiffany's, NYPD, Yellow Cabs and
Broadway. These are the ingredients which
come together in whirlwind of sights, sounds
and experiences. Christmas and New Year are
a magical time in New York with the Christmas
tree at the Rockerfeller Centre, ice skating in
Central Park and magnificent shop displays on
5th Ave. On New Year's Eve everyone gathers in
Times Square for count-down to the New Year
and watch the silver ball drop.
CLASSIC NEW YORK SHOPPING
3-4 Nights • December 2020-March 2022 • Prices from £499pp
Shop till you drop in the city that never sleeps
Southampton to New York: Add this on before your New York
shopping city break and replace the flight to New York with a
wonderful seven nights' voyage from Southampton. You will
enjoy 25-hour days at sea to arrive in tune with New York time.
Wake up early on the final morning of the voyage to greet the
Statue of Liberty as dawn lights up the famous Manhattan
skyline. Step of the ship after breakfast for a full day to explore
the city. Fly home overnight three nights later.
Grandeur, sophistication,
elegance and tradition are key
words associated with a cruise
on board Cunard Queen Mary
2. Expect to dress for dinner,
meet interesting people and
be pampered with legendary
Cunard White Star service.
The Queens Ballroom is the
venue for a range of themed
balls throughout your cruise, a
champagne cocktail party with
the captain and is also where
superlative afternoon tea is
served by white gloved waiters
on fine bone china.
Date Cruise Itinerary
Cunard
Cruise Add
On Price PP
5 Dec 20 NYC to Southampton £429
22 Dec 20 Southampton to NYC £199
31 Dec 20 NYC to Southampton £369
23 Apr 21 NYC to Southampton £629
14 May 21 Southampton to NYC £599
25 May 21 NYC to Southampton £699
16 Jun 21 Southampton to NYC £659
3 Jul 21 NYC to Southampton £789
29 Jul 21 NYC to Southampton £689
1 Aug 21 Southampton to NYC £669
22 Aug 21 Southampton to NYC £499
12 Sep 21 Southampton to NYC £599
1 Oct 21 Southampton to NYC £559
26 Oct 21 NYC to Southampton £589
30 Nov 21 NYC to Southampton £569
22 Dec 21 Southampton to NYC £349
31 Dec 21 NYC to Southampton £449
18 Jan 22 Southampton to NYC £569
11 Mar 22 NYC to Southampton £599
ADD ON A 7 Nights' Cunard Queen Mary 2
Transatlantic Voyage Cruise From Only £199pp*
New York to
Southampton: Add this
voyage on after your
New York Shopping
break instead of the
overnight flight home.
As a result - on your
journey home you have
no airline weight and
size restrictions which
will enhance your
shopping ability. Enjoy
the sail-away party as
the ship slips for her
berth and eases out
into New York Harbour.
Have your cameras at
the ready as Cunard
Queen Mary 2 sails
past the Statue of
Liberty and squeezes
under the Verrazano
Narrows Bridge on her
way out to sea.
(*Full board)
Add on
a 7 night Cunard
Voyage from only £199pp
Call now to book this cruise: 0203 925 1711
Date Price from
5 Dec 20 £799
22 Dec 20 £889*
31 Dec 20 £839
23 Apr 21 £749
14 May 21 £779
25 May 21 £759
16 Jun 21 £789
3 Jul 21 £699
29 Jul 21 £899
1 Aug 21 £879
22 Aug 21 £799
12 Sep 21 £769
1 Oct 21 £759
26 Oct 21 £799
30 Nov 21 £799
22 Dec 21 £999*
31 Dec 21 £959
18 Jan 22 £499
11 Mar 22 £569
Please note: cruises are only available from the promotional prices shown when added to the holiday package. They are not available on their own at
the prices shown.