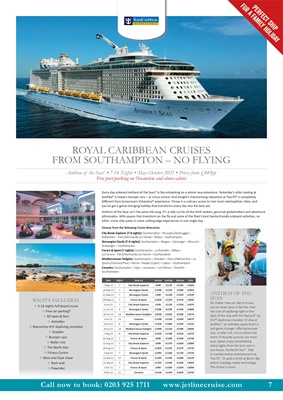 Call now to book: 0203 925 1711 www.jetlinecruise.com 7
ROYAL CARIBBEAN CRUISES
FROM SOUTHAMPTON - NO FLYING
Anthem of the Seas
® • 7-14 Nights • May-October 2021 • Prices from £849pp
Free port parking on Oceanview and above cabins
Every day onboard Anthem of the Seas® is like embarking on a whole new adventure. Yesterday's roller skating at
SeaPlex® is today's bumper cars - or circus school. And tonight's mesmerising roboshow at Two70® is completely
different from tomorrow's Vistarama® experience. Throw in a culinary scene to rival most metropolitan cities, and
you've got a game-changing holiday that transforms every day into the best yet.
Anthem of the Seas isn't the same old song. It's a rally cry for all the thrill seekers, gourmet globetrotters and adventure
aficionados. With spaces that transform on the fly and some of the fleet's best family-friendly onboard activities, no
other cruise ship packs in more cutting edge experiences in one single day.
ANTHEM OF THE
SEAS:
No matter how you like to cruise,
you've never done it like this. Feel
the rush of skydiving right on the
deck of the ship with the RipCord
SM
by
iFLY® skydiving simulator. Or play at
SeaPlexSM
, an activities space that's a
real game changer, offering bumper
cars, a roller rink, circus school and
more. If leisurely pursuits are more
your speed, enjoy breathtaking
island sights from the best seat in
any house, the North Star
SM
. Take
in transformative entertainment at
Two70
SM
. Or grab a drink at Bionic Bar,
where mixology meets technology.
The choice is yours.
WHAT'S INCLUDED:
✥ 5-14 nights full board cruise
✥ Free car parking#
✥ All taxes & fees
✥ Activities
✥ Ripcord by iFLY skydiving simulator
✥ Seaplex
✥ Bumper cars
✥ Roller rink
✥ The North Star
✥ Fitness Centre
✥ West end Style show
✥ Rock wall
✥ Flowrider
Date Nights Itinerary Interior Outside Balcony Suite
7 May 21 7 City Break Explorer £949 £1129 £1359 £3369
14 May 21 7 Norwegian Fjords £1049 £1229 £1469 £2969
21 May 21 7 Norwegian Fjords £999 £1189 £1429 £2199
28 May 21 7 France & Spain £1059 £1239 £1479 £3099
4 Jun 21 7 City Break Explorer £939 £1129 £1359 £2479
11 Jun 21 9 Norwegian Fjords £1099 £1299 £1539 £2889
20 Jun 21 14 Mediterranean Delights £2039 £2259 £2569 £4579
4 Jul 21 12 Canaries £1949 £2169 £2449 £3679
16 Jul 21 8 Norwegian Fjords £1359 £1669 £1929 £3129
24 Jul 21 14 Mediterranean Delights £1899 £2129 £2489 £4099
7 Aug 21 8 City Break Explorer £1429 £1789 £2229 £3279
15 Aug 21 7 France & Spain £999 £1289 £1599 £2749
22 Aug 21 7 City Break Explorer £999 £1379 £1669 £2989
29 Aug 21 7 France & Spain £1029 £1279 £1579 £2739
5 Sep 21 7 Norwegian Fjords £1999 £1269 £1739 £2739
12 Sep 21 11 France & Spain £1189 £1399 £1689 £3139
23 Sep 21 9 City Break Explorer £1229 £1399 £1649 £3469
2 Oct 21 7 France & Spain £849 £1039 £1269 £2099
9 Oct 21 11 Canaries £1329 £1549 £1839 £3749
PERFECT SHIP
FOR A FAMILY HOLIDAY Choose from the following Cruise Itineraries:
City Break Explorer (7-8 nights): Southampton - Brussels (Zeebrugge) -
Rotterdam - Paris/Normandy (Le Havre) - Bilbao - Southampton
Norwegian Fjords (7-9 nights): Southampton - Bergen - Geiranger - Alesund -
Stravanger - Southampton
France & Spain (7 nights): Southampton - La Rochelle - Bilbao -
La Coruna - Paris/Normandy (Le Havre) - Southampton
Mediterranean Delights: Southampton - Gibraltar - Nice (Villefranche) - La
Spezia (Florence/Pisa) - Rome - Naples (Capri) - Lisbon - Southampton
Canaries: Southampton - Vigo - Lanzarote - Las Palmas - Tenerife -
Southampton