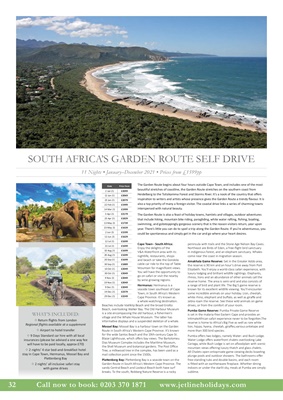 32 Call now to book: 0203 370 1871 www.jetlineholidays.com
Cape Town - South Africa:
Enjoy the delights of the
V&A Waterfront area with its
nightlife, restaurants, shops
and beach or take the Gondola
cable car ride to the top of Table
Mountain for magnificent views.
You will have the opportunity to
go on safari or visit the nearby
by wine growing regions.
Hermanus: Hermanus is a
seaside town southeast of Cape
Town, in South Africa's Western
Cape Province. It's known as
a whale-watching destination.
Beaches include Voëlklip Beach and the broad Grotto
Beach, overlooking Walker Bay. The Old Harbour Museum
is a site encompassing the old harbour, a fishermen's
village and the Whale House Museum. The latter has
informative displays and a suspended skeleton of a whale.
Mossel Bay: Mossel Bay is a harbour town on the Garden
Route in South Africa's Western Cape Province. It's known
for the wide Santos Beach and the 19th-century Cape St.
Blaize Lighthouse, which offers bay views. The Bartolomeu
Dias Museum Complex includes the Maritime Museum,
the Shell Museum and botanical gardens. The Post Office
Tree, a milkwood tree in the complex, has been used as a
mail collection point since the 1500s.
Plattenberg Bay: Plettenberg Bay is a seaside town on the
Garden Route in South Africa's Western Cape Province. The
sandy Central Beach and Lookout Beach both have surf
breaks. To the south, Robberg Nature Reserve is a rocky
peninsula with trails and the Stone Age Nelson Bay Caves.
Northeast are Birds of Eden, a free-flight bird sanctuary
in indigenous forest, and an elephant sanctuary. Whales
come near the coast in migration season.
Amakhala Game Reserve: Set in the Greater Addo area,
the reserve is 90 km and an hour's drive away from Port
Elizabeth. You'll enjoy a world-class safari experience, with
luxury lodging and brilliant wildlife sightings. Elephants,
rhinos, lions and an abundance of other animals call the
reserve home. The area is semi-arid and also consists of
a range of bird and plant life. The Big 5 game reserve is
known for its excellent wildlife viewing. You'll encounter
some incredible animals on your holiday. Lion, cheetah,
white rhino, elephant and buffalo, as well as giraffe and
zebra roam the reserve. See these wild animals on game
drives, or from the comfort of your room.
Pumba Game Reserve: Pumba Private Game Reserve
is set in the malaria-free Eastern Cape and provides an
intimateAfrican safari experience never to be forgotten.The
reserve is home to Africa's Big Five as well as rare white
lion, hippo, hyena, cheetah, giraffes,various antelope and
more than 300 bird species.
Pumba offers two lodges, namely Water- and Bush Lodge.
Water Lodge offers waterfront chalets overlooking Lake
Cariega, while Bush Lodge is set on afloodplain with scenic
mountain views offering luxury thatch and glass chalets.
All Chalets open ontoprivate game viewing decks boasting
plunge pools and outdoor showers. The bathrooms offer
free-standing tubs and double basins, and each room
is fitted with an earthenware fireplace. Whether dining
indoors or under the starlit sky, meals at Pumba are simply
sublime.
WHAT'S INCLUDED:
✥ Return flights from London
Regional flights available at a supplement
✥ Airport to hotel transfer
✥ 9 Days Standard car hire with all local
insurances (please be advised a one way fee
will have to be paid locally, approx £70)
✥ 2 nights' 4 star bed-and-breakfast hotel
stay in Cape Town, Hermanus, Mossel Bay and
Plettenberg Bay
✥ 2 nights' all inclusive safari stay
with game drives
The Garden Route begins about four hours outside Cape Town, and includes one of the most
beautiful stretches of coastline, the Garden Route stretches on the southern coast from
Heidelberg to the Tsitsikamma Forest and Storms River. It's a nook of the country that offers
inspiration to writers and artists whose presence gives the Garden Route a trendy flavour. It is
also a top priority of many a foreign visitor. The coastal drive links a series of charming towns
interspersed with natural beauty.
The Garden Route is also a feast of holiday towns, hamlets and villages, outdoor adventures
that include hiking, mountain bike riding, paragliding, white water rafting, fishing, boating,
swimming, and gobstoppingly gorgeous scenery that is the reason visitors return, year upon
year. There's little you can do to spoil a trip along the Garden Route. If you're adventurous, you
could be spontaneous and simply get in the car and go where your heart desires.
SOUTH AFRICA'S GARDEN ROUTE SELF DRIVE
11 Nights • January-December 2021 • Prices from £1599pp
Date Price from
2 Jan 21 £2099
12 Jan 21 £2069
23 Jan 21 £2079
22 Feb 21 £1999
14 Mar 21 £1999
3 Apr 21 £2179
23 Apr 21 £1829
13 May 21 £1739
23 May 21 £1629
2 Jun 21 £1599
12 Jun 21 £1629
12 Jul 21 £1699
22 Jul 21 £1699
10 Aug 21 £1699
20 Aug 21 £1699
20 Sep 21 £1699
30 Sep 21 £1889
10 Oct 21 £2049
30 Oct 21 £2049
9 Nov 21 £2049
19 Nov 21 £2049
9 Dec 21 £2049
19 Dec 21 £2379
29 Dec 21 £2249