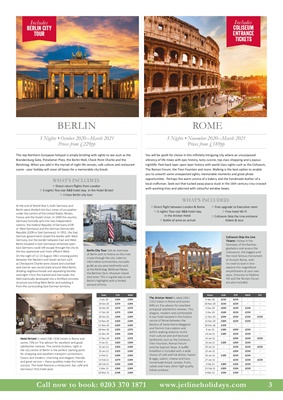 Call now to book: 0203 370 1871 www.jetlineholidays.com 3
BERLIN
3 Nights • October 2020--March 2021
Prices from £229pp
This top Northern European hotspot is simply bristling with sights to see such as the
Brandenburg Gate, Potsdamer Platz, the Berlin Wall, Check Point Charlie and the
Reichstag. When you add in the myriad of night life venues, cafe culture and restaurant
scene - your holiday will cover all bases for a memorable city break.
WHAT'S INCLUDED:
✥ Direct return flights from London
✥ 3 nights' five-star B&B hotel stay in the Hotel Bristol
✥ 1 hour Berlin city tour
ROME
3 Nights • November 2020--March 2021
Prices from £189pp
You will be spoilt for choice in this infinitely intriguing city where an unsurpassed
vibrancy of life mixes with epic history, tasty cuisine, top class shopping and a joyous
nightlife. Peel back layer upon layer history with world class sights such as the Coliseum,
The Roman Forum, the Trevi Fountain and more. Walking is the best option to enable
you to unearth some unexpected sights, memorable moments and great photo
opportunities. Perhaps the warm aroma of a bakery and the handmade leather of a
local craftsman. Seek out that tucked away piazza stuck in the 16th century criss-crossed
with washing lines and adorned with colourful window boxes.
At the end of World War II, both Germany and
Berlin were divided into four zones of occupation
under the control of the United States, Britain,
France and the Soviet Union. In 1949 the country
Germany formally split into two independent
nations: the Federal Republic of Germany (FDR
or West Germany) and the German Democratic
Republic (GDR or East Germany). In 1952, the East
German government closed the border with West
Germany, but the border between East and West
Berlin (located in East Germany) remained open.
East Germans could still escape through the city to
the less oppressive and more affluent West.
On the night of 12-13 August 1961 crossing points
between the Western and Soviet sectors such
as Checkpoint Charlie were closed and a barbed
wire barrier was constructed around West Berlin,
dividing neighbourhoods and separating families
overnight. From this barbed wire barricade, the
Wall eventually developed into a fortified concrete
structure encircling West Berlin and isolating it
from the surrounding East German territory.
Hotel Bristol is rated 206 / 636 hotels in Rome and
scores 73% on Trip advisor for excellent and good
satisfaction reviews. The central location, right in
the city centre of Berlin is the perfect starting point
for shopping and excellent transport connections.
Classic and modern, charming and elegant, friendly
and great service - these qualities make the hotel a
success. The hotel features a restaurant, bar, café and
Germany's first hotel pool.
Includes
Berlin City
Tour
Hotel Bristol The Ariston Hotel is rated 238 /
1322 hotels in Rome and scores
84% on Trip advisor for excellent
and good satisfaction reviews. This
elegant, modern and comfortable
4-star hotel located in the historic
centre of Rome between the
Basilica of Santa Maria Maggiore
and Termini train station and
within walking distance to the
main cultural and architectural
landmarks such as the Coliseum,
Trevi Fountain, Roman Forum
and the Spanish Steps. A buffet
breakfast is included with a wide
choice of cold and hot dishes: bacon
& eggs, salami, cheese and ham,
homemade bread, cereals, fruits,
salads and many other high-quality
Italian produce.
Coliseum Skip the Line
Tickets: Follow in the
footsteps of the fearless
gladiators and access the
Colosseum, the biggest and
the most famous monument
of Ancient Rome, with
no need to wait in line -
explore this magnificent
amphitheatre at your own
pace. Entrance to Palatine
Hill and the Roman Forum
are also included.
Berlin City Tour: Get an overview
of Berlin and its history on this river
cruise through the city. Listen to
informative commentary via audio
guide as you pass landmarks such
as the Reichstag, Bellevue Palace,
the Berliner Dom, Museum Island
and more. This is a great way to see
Berlin's highlights with a limited
amount of time.
Date STN MAN
3 Oct 20 £249 £249
10 Oct 20 £279 £249
16 Oct 20 £279 £279
17 Oct 20 £279 £249
30 Oct 20 £249 £249
14 Nov 20 £229 £249
21 Nov 20 £229 £249
28 Nov 20 £229 £279
12 Dec 20 £249 £249
17 Dec 20 £279 £279
8 Jan 21 £229 £249
15 Jan 21 £229 £249
23 Jan 21 £229 £249
6 Feb 21 £249 £249
13 Feb 21 £279 £249
26 Feb 21 £249 £249
5 Mar 21 £249 £249
20 Mar 21 £249 £249
Includes
Coliseum
Entrance
Tickets
✥ Direct flight between London & Rome
✥ 3 nights' four-star B&B hotel stay
in the Ariston Hotel
✥ Bottle of wine on arrival
✥ Free upgrade to Executive room
✥ Free hotel Wi-Fi
✥ Coliseum Skip the Line entrance
tickets & tour
WHAT'S INCLUDED:
Rome LGW STN MAN EDI
6 Nov 20 £239 £239 - -
20 Nov 20 £239 £239 - -
4 Dec 20 £209 £239 £239 -
5 Dec 20 £189 £239 £239 -
11 Dec 20 £209 £239 £239 £239
12 Dec 20 £209 £239 £239 -
30 Dec 20 £239 - - -
9 Jan 21 £189 £209 £239 -
14 Jan 21 £189 £239 £239 -
15 Jan 21 - £209 £239 £239
16 Jan 21 £189 £209 £239 -
20 Jan 21 - £239 £239 £239
23 Jan 21 - £209 £239 -
26 Jan 21 £189 £239 £239 -
27 Jan 21 - £239 £239 £239
3 Feb 21 £209 £239 £239 -
23 Feb 21 £209 £239 £239 -
6 Mar 21 £239 £239 - -