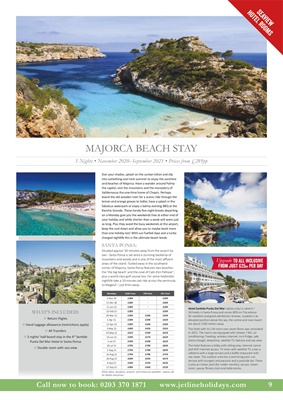 Call now to book: 0203 370 1871 www.jetlineholidays.com 9
MAJORCA BEACH STAY
5 Nights • November 2020-September 2021 • Prices from £289pp
WHAT'S INCLUDED:
✥ Return Flights
✥ Hand luggage allowance (restrictions apply)
✥ All Transfers
✥ 5 nights' half-board stay in the 4* Sentido
Punta Del Mar Hotel in Santa Ponsa
✥ Double room with sea-view
Don your shades, splash on the suntan lotion and slip
into something cool next summer to enjoy the sunshine
and beaches of Majorca. Have a wander around Palma
the capital, visit the mountains and the monastery of
Valldemossa the one-time home of Chopin. Perhaps
board the old wooden train for a scenic ride through the
lemon and orange groves to Soller, have a splash in the
fabulous waterpark or enjoy a balmy evening BBQ at the
Rancho Grande. These handy five-night breaks departing
on a Monday give you the weekends free at either end of
your holiday and while shorter than a week will seem just
as long. Plus they avoid the busy weekends at the airport,
keep the cost down and allow you to maybe book more
than one holiday too! With sun fuelled days and a turbo
charged nightlife this is the ultimate beach break.
Mondays LGW From LTN from LPL From
2 Nov 20 £289 - £289
21 Dec 20 £289 - £289
11 Jan 21 £289 - £289
22 Feb 21 £289 - £289
29 Mar 21 £399 £369 £399
5 Apr 21 £399 £399 £429
12 Apr 21 £399 £369 £399
3 May 21 £499 £459 £503
24 May 21 £619 £599 £639
14 Jun 21 £599 £579 £629
5 Jul 21 £599 £599 £629
26 Jul 21 £799 £789 £849
2 Aug 21 £799 £789 £849
23 Aug 21 £799 £789 £759
30 Aug 21 £699 £659 £679
6 Sep 21 £599 £559 £629
27 Sep 21 £499 £469 £539
Other dates, durations, airports and hotels are available - please call
for details and prices.
Hotel Sentido Punta Del Mar (adults only) is rated 4 /
34 hotels in Santa Ponsa and scores 80% on Trip advisor
for excellent and good satisfaction reviews. Located in an
elevated position above the sea, the centre and main beach
are about 1500 meters away.
The hotel with its 234 room over seven floors was renovated
in 2012. The rooms are equipped with shower / WC, air
conditioning / heating, wireless internet, mini fridge, safe
(extra charge), telephone, satellite TV, balcony and sea view.
The hotel features a lobby with sitting area, internet corner
and WiFi internet access, TV room with satellite TV, a bar, a
cafeteria with a large terrace and a buffet restaurant with
sea views. The outdoor area has a swimming pool, sun
terrace with loungers and parasols and a poolside bar. There
is also an indoor pool (for colder months), Jacuzzi, steam
room, sauna, fitness room and table tennis.
SANTA PONSA:
Situated approx' 30 minutes away from the airport by
taxi - Santa Ponsa is set amid a stunning backdrop of
mountains and woods and is one of the most affluent
areas of the island. Tucked away in the southwest
corner of Majorca, Santa Ponsa features two beaches:
the 'the big beach' and the cove of Caló d'en Pallisser';
plus a world class golf course too. For some hedonistic
nightlife take a 10-minute cab ride across the peninsula
to Magaluf - just 8 km away.
SEAVIEW
HOTEL ROOMS
Upgrade to All Inclusive
from just £25pp per day