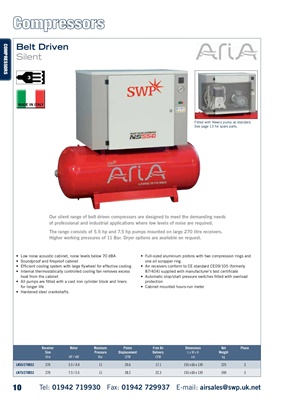 Compressors
Belt Driven
Silent
Receiver Motor Maximum Piston Free Air Dimensions Net Phase
Size Pressure Displacement Delivery L x W x H Weight
litre HP / kW Bar CFM CFM cm kg
LN55/270BS3 270 5.5 / 4.0 11 20.6 17.1 155 x 66 x 139 225 3
LN75/270BS3 270 7.5 / 5.5 11 28.2 22.3 155 x 66 x 139 240 3
3
• Low noise acoustic cabinet, noise levels below 70 dBA
• Soundproof and fireproof cabinet
• Efficient cooling system with large flywheel for effective cooling
• Internal thermostatically controlled cooling fan removes excess
heat from the cabinet
• All pumps are fitted with a cast iron cylinder block and liners
for longer life
• Hardened steel crankshafts
Our silent range of belt driven compressors are designed to meet the demanding needs
of professional and industrial applications where low levels of noise are required.
The range consists of 5.5 hp and 7.5 hp pumps mounted on large 270 litre receivers.
Higher working pressures of 11 Bar. Dryer options are available on request.
• Full-sized aluminium pistons with two compression rings and
one oil scrapper ring
• Air receivers conform to CE standard CE09/105 (formerly
87/404) supplied with manufacturer's test certificate
• Automatic stop/start pressure switches fitted with overload
protection
• Cabinet mounted hours-run meter
Fitted with Newco pump as standard.
See page 13 for spare parts.
COMPRESSORS
10 Tel: 01942 719930 Fax: 01942 729937 E-mail: airsales@swp.uk.netttp://swp.uk.net" target="_blank" title="Visit swp.uk.net">swp.uk.net