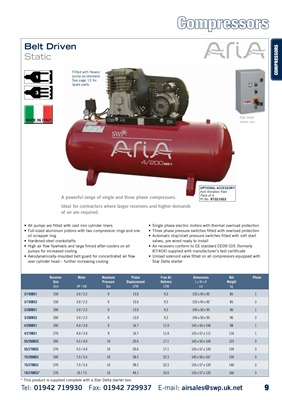 9
Compressors
Belt Driven
Static
3
1
Star Delta
starter box
Receiver Motor Maximum Piston Free Air Dimensions Net Phase
Size Pressure Displacement Delivery L x W x H Weight
litre HP / kW Bar CFM CFM cm kg
3/150BS1 150 3.0 / 2.2 9 13.0 9.2 132 x 45 x 92 85 1
3/150BS3 150 3.0 / 2.2 9 13.0 9.2 132 x 45 x 92 85 3
3/200BS1 200 3.0 / 2.2 9 13.0 9.2 145 x 50 x 95 96 1
3/200BS3 200 3.0 / 2.2 9 13.0 9.2 145 x 50 x 95 96 3
4/200BS1 200 4.0 / 3.0 9 16.7 11.9 145 x 50 x 100 98 1
4/270BS1 270 4.0 / 3.0 9 16.7 11.9 155 x 57 x 112 116 1
55/200BS3 200 5.5 / 4.0 10 20.6 17.1 145 x 50 x 104 123 3
55/270BS3 270 5.5 / 4.0 10 20.6 17.1 155 x 57 x 120 139 3
75/200BS3 200 7.5 / 5.5 10 28.2 22.3 145 x 50 x 107 139 3
75/270BS3 270 7.5 / 5.5 10 28.2 22.3 155 x 57 x 120 146 3
10/270BS3* 270 10 / 7.5 10 44.1 33.0 155 x 57 x 120 166 3
• Single phase electric motors with thermal overload protection
• Three phase pressure switches fitted with overload protection
• Automatic stop/start pressure switches fitted with soft start
valves, pre wired ready to install
• Air receivers conform to CE standard CE09/105 (formerly
87/404) supplied with manufacturer's test certificate
• Unload solenoid valve fitted on all compressors equipped with
Star Delta starter
• All pumps are fitted with cast iron cylinder liners
• Full-sized aluminum pistons with two compression rings and one
oil scrapper ring
• Hardened steel crankshafts
• High air flow flywheels and large finned after-coolers on all
pumps for increased cooling
• Aerodynamically-moulded belt guard for concentrated air flow
over cylinder head - further increasing cooling
A powerful range of single and three phase compressors.
Ideal for contractors where larger receivers and
higher demands of air are required.
OPTIONAL ACCESSORY
Anti Vibration Feet
Pack of 4
Pt No. 97221022
* This product is supplied complete with a Star Delta starter box
Fitted with Newco
pump as standard.
See page 13 for
spare parts. COMPRESSORS
Tel: 01942 719930 Fax: 01942 729937 E-mail: airsales@swp.uk.netttp://swp.uk.net" target="_blank" title="Visit swp.uk.net">swp.uk.net