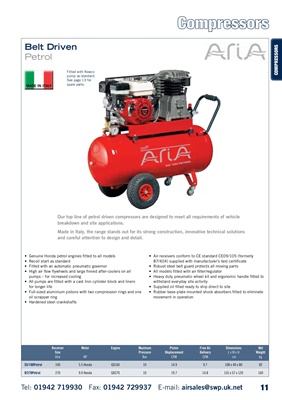 Receiver Motor Engine Maximum Piston Free Air Dimensions Net
Size Pressure Displacement Delivery L x W x H Weight
litre HP Bar CFM CFM cm kg
55/100Petrol 100 5.5 Honda GX160 10 14.9 9.7 108 x 40 x 80 82
9/270Petrol 270 9.0 Honda GX270 10 19.7 14.8 155 x 57 x 120 160
Compressors
Belt Driven
Petrol
• Genuine Honda petrol engines fitted to all models
• Recoil start as standard
• Fitted with an automatic pneumatic governor
• High air flow flywheels and large finned after-coolers on all
pumps - for increased cooling
• All pumps are fitted with a cast Iron cylinder block and liners
for longer life
• Full-sized aluminium pistons with two compression rings and one
oil scrapper ring
• Hardened steel crankshafts
Our top line of petrol driven compressors are designed to meet all requirements of vehicle
breakdown and site applications.
Made in Italy, the range stands out for its strong construction, innovative technical solutions
and careful attention to design and detail.
• Air receivers conform to CE standard CE09/105 (formerly
87/404) supplied with manufacturer's test certificate
• Robust steel belt guard protects all moving parts
• All models fitted with air filter/regulator
• Heavy duty pneumatic wheel kit and ergonomic handle fitted to
withstand everyday site activity
• Supplied oil filled ready to ship direct to site
• Rubber base-plate mounted shock absorbers fitted to eliminate
movement in operation
Fitted with Newco
pump as standard.
See page 13 for
spare parts. COMPRESSORS
11
Tel: 01942 719930 Fax: 01942 729937 E-mail: airsales@swp.uk.netttp://swp.uk.net" target="_blank" title="Visit swp.uk.net">swp.uk.net