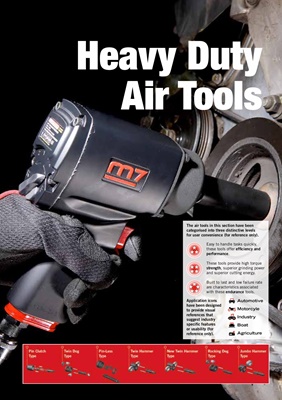 Heavy Duty
Air Tools
The air tools in this section have been
categorised into three distinctive levels
for user convenience (for reference only).
Application icons
have been designed
to provide visual
references that
suggest industry
specific features
or usability (for
reference only).
Automotive
Motorcyle
Industry
Boat
Agriculture
Easy to handle tasks quickly,
these tools offer efficiency and
performance.
These tools provide high torque
strength, superior grinding power
and superior cutting energy.
Built to last and low failure rate
are characteristics associated
with these endurance tools.