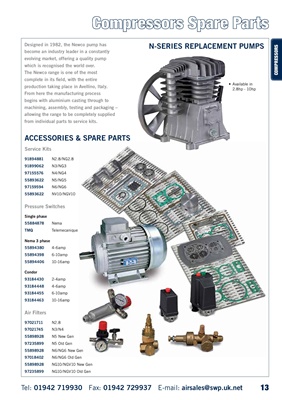 Compressors Spare Parts
• Available in
2.8hp - 10hp
Designed in 1982, the Newco pump has
become an industry leader in a constantly
evolving market, offering a quality pump
which is recognised the world over.
The Newco range is one of the most
complete in its field, with the entire
production taking place in Avellino, Italy.
From here the manufacturing process
begins with aluminium casting through to
machining, assembly, testing and packaging -
allowing the range to be completely supplied
from individual parts to service kits.
N-SERIES REPLACEMENT PUMPS
ACCESSORIES & SPARE PARTS
Service Kits
91894881 N2.8/NG2.8
91899062 N3/NG3
97155576 N4/NG4
55893622 N5/NG5
97159594 N6/NG6
55893622 NV10/NGV10
Pressure Switches
Single phase
55884878 Nema
TMQ Telemecanique
Nema 3 phase
55894380 4-6amp
55894398 6-10amp
55894406 10-16amp
Condor
93184430 2-4amp
93184448 4-6amp
93184455 6-10amp
93184463 10-16amp
Air Filters
97021711 N2.8
97021745 N3/N4
55898928 N5 New Gen
97235899 N5 Old Gen
55898928 N6/NG6 New Gen
97018402 N6/NG6 Old Gen
55898928 NG10/NGV10 New Gen
97235899 NG10/NGV10 Old Gen
COMPRESSORS
13
Tel: 01942 719930 Fax: 01942 729937 E-mail: airsales@swp.uk.netttp://swp.uk.net" target="_blank" title="Visit swp.uk.net">swp.uk.net