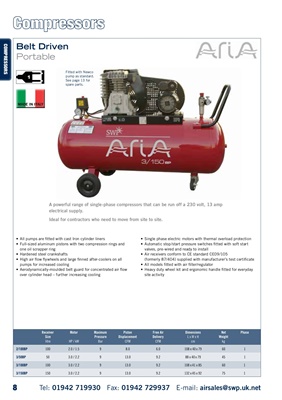 8
COMPRESSORSCompressors
Belt Driven
Portable
1
Receiver Motor Maximum Piston Free Air Dimensions Net Phase
Size Pressure Displacement Delivery L x W x H Weight
litre HP / kW Bar CFM CFM cm kg
2/100BP 100 2.0 / 1.5 9 8.0 6.0 108 x 40 x 79 60 1
3/50BP 50 3.0 / 2.2 9 13.0 9.2 88 x 40 x 79 45 1
3/100BP 100 3.0 / 2.2 9 13.0 9.2 108 x 41 x 85 60 1
3/150BP 150 3.0 / 2.2 9 13.0 9.2 132 x 45 x 92 75 1
• All pumps are fitted with cast Iron cylinder liners
• Full-sized aluminum pistons with two compression rings and
one oil scrapper ring
• Hardened steel crankshafts
• High air flow flywheels and large finned after-coolers on all
pumps for increased cooling
• Aerodynamically-moulded belt guard for concentrated air flow
over cylinder head - further increasing cooling
A powerful range of single-phase compressors that can be run off a 230 volt, 13 amp
electrical supply.
Ideal for contractors who need to move from site to site.
• Single phase electric motors with thermal overload protection
• Automatic stop/start pressure switches fitted with soft start
valves, pre-wired and ready to install
• Air receivers conform to CE standard CE09/105
(formerly 87/404) supplied with manufacturer's test certificate
• All models fitted with air filter/regulator
• Heavy duty wheel kit and ergonomic handle fitted for everyday
site activity
Fitted with Newco
pump as standard.
See page 13 for
spare parts.
Tel: 01942 719930 Fax: 01942 729937 E-mail: airsales@swp.uk.netttp://swp.uk.net" target="_blank" title="Visit swp.uk.net">swp.uk.net