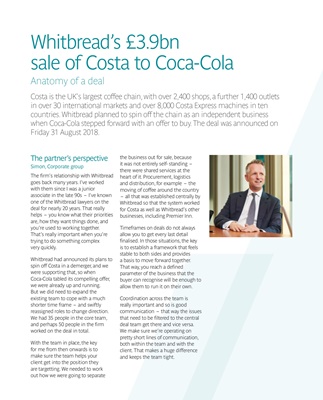 Whitbread's £3.9bn
sale of Costa to Coca-Cola
The partner's perspective
Simon, Corporate group
The firm's relationship with Whitbread
goes back many years. I've worked
with them since I was a junior
associate in the late 90s - I've known
one of the Whitbread lawyers on the
deal for nearly 20 years. That really
helps - you know what their priorities
are, how they want things done, and
you're used to working together.
That's really important when you're
trying to do something complex
very quickly.
Whitbread had announced its plans to
spin off Costa in a demerger, and we
were supporting that, so when
Coca-Cola tabled its compelling offer,
we were already up and running.
But we did need to expand the
existing team to cope with a much
shorter time frame - and swiftly
reassigned roles to change direction.
We had 35 people in the core team,
and perhaps 50 people in the firm
worked on the deal in total.
With the team in place, the key
for me from then onwards is to
make sure the team helps your
client get into the position they
are targetting. We needed to work
out how we were going to separate
Costa is the UK's largest coffee chain, with over 2,400 shops, a further 1,400 outlets
in over 30 international markets and over 8,000 Costa Express machines in ten
countries. Whitbread planned to spin off the chain as an independent business
when Coca-Cola stepped forward with an offer to buy. The deal was announced on
Friday 31 August 2018.
Anatomy of a deal
the business out for sale, because
it was not entirely self- standing -
there were shared services at the
heart of it. Procurement, logistics
and distribution, for example - the
moving of coffee around the country
- all that was established centrally by
Whitbread so that the system worked
for Costa as well as Whitbread's other
businesses, including Premier Inn.
Timeframes on deals do not always
allow you to get every last detail
finalised. In those situations, the key
is to establish a framework that feels
stable to both sides and provides
a basis to move forward together.
That way, you reach a defined
parameter of the business that the
buyer can recognise will be enough to
allow them to run it on their own.
Coordination across the team is
really important and so is good
communication - that way the issues
that need to be filtered to the central
deal team get there and vice versa.
We make sure we're operating on
pretty short lines of communication,
both within the team and with the
client. That makes a huge difference
and keeps the team tight.
8
slaughterandmay.com/careers