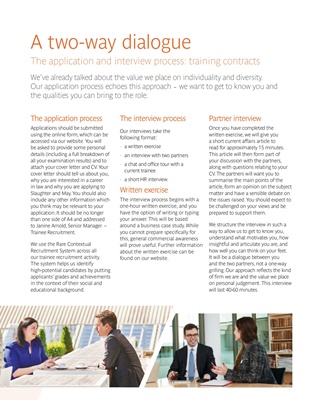 The application and interview process: training contracts
A two-way dialogue
The interview process
Our interviews take the
following format:
· a written exercise
· an interview with two partners
· a chat and office tour with a
current trainee
· a short HR interview.
Written exercise
The interview process begins with a
one-hour written exercise, and you
have the option of writing or typing
your answer. This will be based
around a business case study. While
you cannot prepare specifically for
this, general commercial awareness
will prove useful. Further information
about the written exercise can be
found on our website.
Partner interview
Once you have completed the
written exercise, we will give you
a short current affairs article to
read for approximately 15 minutes.
This article will then form part of
your discussion with the partners,
along with questions relating to your
CV. The partners will want you to
summarise the main points of the
article, form an opinion on the subject
matter and have a sensible debate on
the issues raised. You should expect to
be challenged on your views and be
prepared to support them.
We structure the interview in such a
way to allow us to get to know you,
understand what motivates you, how
insightful and articulate you are, and
how well you can think on your feet.
It will be a dialogue between you
and the two partners, not a one-way
grilling. Our approach reflects the kind
of firm we are and the value we place
on personal judgement. This interview
will last 40-60 minutes.
The application process
Applications should be submitted
using the online form, which can be
accessed via our website. You will
be asked to provide some personal
details (including a full breakdown of
all your examination results) and to
attach your cover letter and CV. Your
cover letter should tell us about you,
why you are interested in a career
in law and why you are applying to
Slaughter and May. You should also
include any other information which
you think may be relevant to your
application. It should be no longer
than one side of A4 and addressed
to Janine Arnold, Senior Manager -
Trainee Recruitment.
We use the Rare Contextual
Recruitment System across all
our trainee recruitment activity.
The system helps us identify
high-potential candidates by putting
applicants' grades and achievements
in the context of their social and
educational background.
We've already talked about the value we place on individuality and diversity.
Our application process echoes this approach - we want to get to know you and
the qualities you can bring to the role.
26
slaughterandmay.com/careers