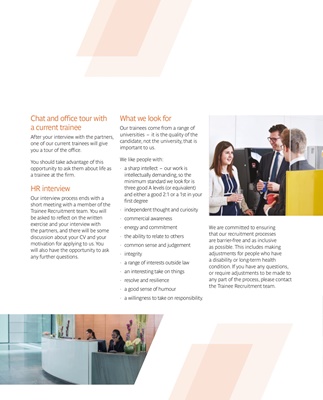 Chat and office tour with
a current trainee
After your interview with the partners,
one of our current trainees will give
you a tour of the office.
You should take advantage of this
opportunity to ask them about life as
a trainee at the firm.
HR interview
Our interview process ends with a
short meeting with a member of the
Trainee Recruitment team. You will
be asked to reflect on the written
exercise and your interview with
the partners, and there will be some
discussion about your CV and your
motivation for applying to us. You
will also have the opportunity to ask
any further questions.
What we look for
Our trainees come from a range of
universities - it is the quality of the
candidate, not the university, that is
important to us.
We like people with:
· a sharp intellect - our work is
intellectually demanding, so the
minimum standard we look for is
three good A levels (or equivalent)
and either a good 2:1 or a 1st in your
first degree
· independent thought and curiosity
· commercial awareness
· energy and commitment
· the ability to relate to others
· common sense and judgement
· integrity
· a range of interests outside law
· an interesting take on things
· resolve and resilience
· a good sense of humour
· a willingness to take on responsibility.
We are committed to ensuring
that our recruitment processes
are barrier-free and as inclusive
as possible. This includes making
adjustments for people who have
a disability or long-term health
condition. If you have any questions,
or require adjustments to be made to
any part of the process, please contact
the Trainee Recruitment team. 27
slaughterandmay.com/careers