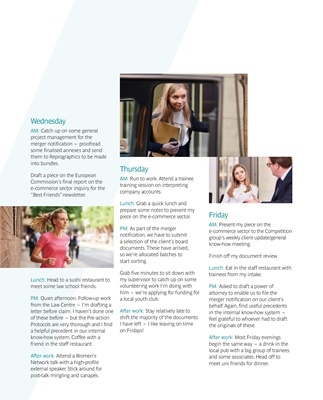 Friday
AM: Present my piece on the
e-commerce sector to the Competition
group's weekly client update/general
know-how meeting.
Finish off my document review.
Lunch: Eat in the staff restaurant with
trainees from my intake.
PM: Asked to draft a power of
attorney to enable us to file the
merger notification on our client's
behalf. Again, find useful precedents
in the internal know-how system -
feel grateful to whoever had to draft
the originals of these.
After work: Most Friday evenings
begin the same way - a drink in the
local pub with a big group of trainees
and some associates. Head off to
meet uni friends for dinner.
Wednesday
AM: Catch up on some general
project management for the
merger notification - proofread
some finalised annexes and send
them to Reprographics to be made
into bundles.
Draft a piece on the European
Commission's final report on the
e-commerce sector inquiry for the
"Best Friends" newsletter.
Lunch: Head to a sushi restaurant to
meet some law school friends.
PM: Quiet afternoon. Follow-up work
from the Law Centre - I'm drafting a
letter before claim. I haven't done one
of these before - but the Pre-action
Protocols are very thorough and I find
a helpful precedent in our internal
know-how system. Coffee with a
friend in the staff restaurant.
After work: Attend a Women's
Network talk with a high-profile
external speaker. Stick around for
post-talk mingling and canapés.
Thursday
AM: Run to work. Attend a trainee
training session on interpreting
company accounts.
Lunch: Grab a quick lunch and
prepare some notes to present my
piece on the e-commerce sector.
PM: As part of the merger
notification, we have to submit
a selection of the client's board
documents. These have arrived,
so we're allocated batches to
start sorting.
Grab five minutes to sit down with
my supervisor to catch up on some
volunteering work I'm doing with
him - we're applying for funding for
a local youth club.
After work: Stay relatively late to
shift the majority of the documents
I have left - I like leaving on time
on Fridays!
11
slaughterandmay.com/careers