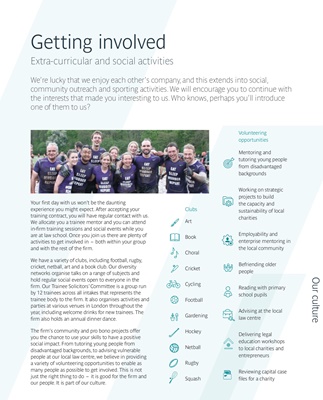 Extra-curricular and social activities
Getting involved
We're lucky that we enjoy each other's company, and this extends into social,
community outreach and sporting activities. We will encourage you to continue with
the interests that made you interesting to us. Who knows, perhaps you'll introduce
one of them to us?
Your first day with us won't be the daunting
experience you might expect. After accepting your
training contract, you will have regular contact with us.
We allocate you a trainee mentor and you can attend
in-firm training sessions and social events while you
are at law school. Once you join us there are plenty of
activities to get involved in - both within your group
and with the rest of the firm.
We have a variety of clubs, including football, rugby,
cricket, netball, art and a book club. Our diversity
networks organise talks on a range of subjects and
hold regular social events open to everyone in the
firm. Our Trainee Solicitors' Committee is a group run
by 12 trainees across all intakes that represents the
trainee body to the firm. It also organises activities and
parties at various venues in London throughout the
year, including welcome drinks for new trainees. The
firm also holds an annual dinner dance.
The firm's community and pro bono projects offer
you the chance to use your skills to have a positive
social impact. From tutoring young people from
disadvantaged backgrounds, to advising vulnerable
people at our local law centre, we believe in providing
a variety of volunteering opportunities to enable as
many people as possible to get involved. This is not
just the right thing to do - it is good for the firm and
our people. It is part of our culture.
Clubs
Art
Book
Choral
Cricket
Cycling
Football
Gardening
Hockey
Netball
Rugby
Squash
Volunteering
opportunities
Mentoring and
tutoring young people
from disadvantaged
backgrounds
Working on strategic
projects to build
the capacity and
sustainability of local
charities
Employability and
enterprise mentoring in
the local community
Befriending older
people
Reading with primary
school pupils
Advising at the local
law centre
Delivering legal
education workshops
to local charities and
entrepreneurs
Reviewing capital case
files for a charity
21
slaughterandmay.com/careers
Our culture