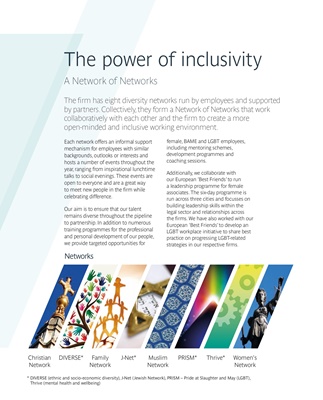 Each network offers an informal support
mechanism for employees with similar
backgrounds, outlooks or interests and
hosts a number of events throughout the
year, ranging from inspirational lunchtime
talks to social evenings. These events are
open to everyone and are a great way
to meet new people in the firm while
celebrating difference.
Our aim is to ensure that our talent
remains diverse throughout the pipeline
to partnership. In addition to numerous
training programmes for the professional
and personal development of our people,
we provide targeted opportunities for
female, BAME and LGBT employees,
including mentoring schemes,
development programmes and
coaching sessions.
Additionally, we collaborate with
our European 'Best Friends' to run
a leadership programme for female
associates. The six-day programme is
run across three cities and focusses on
building leadership skills within the
legal sector and relationships across
the firms. We have also worked with our
European 'Best Friends' to develop an
LGBT workplace initiative to share best
practice on progressing LGBT-related
strategies in our respective firms.
The power of inclusivity
A Network of Networks
The firm has eight diversity networks run by employees and supported
by partners. Collectively, they form a Network of Networks that work
collaboratively with each other and the firm to create a more
open-minded and inclusive working environment.
Networks
Family
Network
Christian
Network
Muslim
Network
PRISM* Thrive* Women's
Network
DIVERSE* J-Net*
* DIVERSE (ethnic and socio-economic diversity), J-Net (Jewish Network), PRISM - Pride at Slaughter and May (LGBT),
Thrive (mental health and wellbeing)
slaughterandmay.com/careers
22