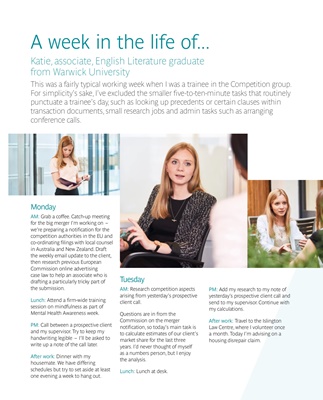 Monday
AM: Grab a coffee. Catch-up meeting
for the big merger I'm working on -
we're preparing a notification for the
competition authorities in the EU and
co-ordinating filings with local counsel
in Australia and New Zealand. Draft
the weekly email update to the client,
then research previous European
Commission online advertising
case law to help an associate who is
drafting a particularly tricky part of
the submission.
Lunch: Attend a firm-wide training
session on mindfulness as part of
Mental Health Awareness week.
PM: Call between a prospective client
and my supervisor. Try to keep my
handwriting legible - I'll be asked to
write up a note of the call later.
After work: Dinner with my
housemate. We have differing
schedules but try to set aside at least
one evening a week to hang out.
Tuesday
AM: Research competition aspects
arising from yesterday's prospective
client call.
Questions are in from the
Commission on the merger
notification, so today's main task is
to calculate estimates of our client's
market share for the last three
years. I'd never thought of myself
as a numbers person, but I enjoy
the analysis.
Lunch: Lunch at desk.
A week in the life of...
This was a fairly typical working week when I was a trainee in the Competition group.
For simplicity's sake, I've excluded the smaller five-to-ten-minute tasks that routinely
punctuate a trainee's day, such as looking up precedents or certain clauses within
transaction documents, small research jobs and admin tasks such as arranging
conference calls.
PM: Add my research to my note of
yesterday's prospective client call and
send to my supervisor. Continue with
my calculations.
After work: Travel to the Islington
Law Centre, where I volunteer once
a month. Today I'm advising on a
housing disrepair claim.
Katie, associate, English Literature graduate
from Warwick University
10
slaughterandmay.com/careers