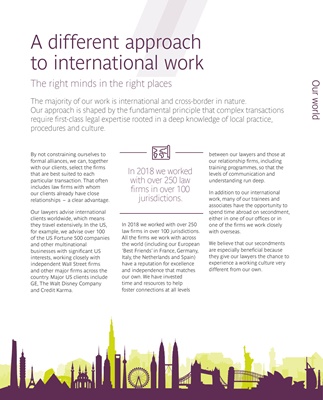 Our world
In 2018 we worked with over 250
law firms in over 100 jurisdictions.
All the firms we work with across
the world (including our European
'Best Friends' in France, Germany,
Italy, the Netherlands and Spain)
have a reputation for excellence
and independence that matches
our own. We have invested
time and resources to help
foster connections at all levels
between our lawyers and those at
our relationship firms, including
training programmes, so that the
levels of communication and
understanding run deep.
In addition to our international
work, many of our trainees and
associates have the opportunity to
spend time abroad on secondment,
either in one of our offices or in
one of the firms we work closely
with overseas.
We believe that our secondments
are especially beneficial because
they give our lawyers the chance to
experience a working culture very
different from our own.
By not constraining ourselves to
formal alliances, we can, together
with our clients, select the firms
that are best suited to each
particular transaction. That often
includes law firms with whom
our clients already have close
relationships - a clear advantage.
Our lawyers advise international
clients worldwide, which means
they travel extensively. In the US,
for example, we advise over 100
of the US Fortune 500 companies
and other multinational
businesses with significant US
interests, working closely with
independent Wall Street firms
and other major firms across the
country. Major US clients include
GE, The Walt Disney Company
and Credit Karma.
A different approach
to international work
The right minds in the right places
The majority of our work is international and cross-border in nature.
Our approach is shaped by the fundamental principle that complex transactions
require first-class legal expertise rooted in a deep knowledge of local practice,
procedures and culture.
In 2018 we worked
with over 250 law
firms in over 100
jurisdictions.
13
slaughterandmay.com/careers
Our world