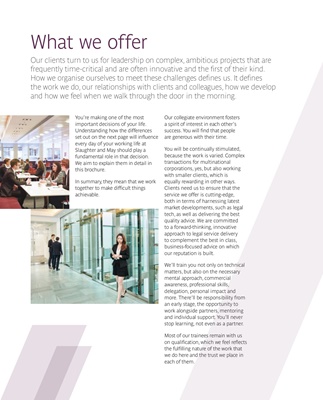 Our collegiate environment fosters
a spirit of interest in each other's
success. You will find that people
are generous with their time.
You will be continually stimulated,
because the work is varied. Complex
transactions for multinational
corporations, yes, but also working
with smaller clients, which is
equally rewarding in other ways.
Clients need us to ensure that the
service we offer is cutting-edge,
both in terms of harnessing latest
market developments, such as legal
tech, as well as delivering the best
quality advice. We are committed
to a forward-thinking, innovative
approach to legal service delivery
to complement the best in class,
business-focused advice on which
our reputation is built.
We'll train you not only on technical
matters, but also on the necessary
mental approach, commercial
awareness, professional skills,
delegation, personal impact and
more. There'll be responsibility from
an early stage, the opportunity to
work alongside partners, mentoring
and individual support. You'll never
stop learning, not even as a partner.
Most of our trainees remain with us
on qualification, which we feel reflects
the fulfilling nature of the work that
we do here and the trust we place in
each of them.
Our clients turn to us for leadership on complex, ambitious projects that are
frequently time-critical and are often innovative and the first of their kind.
How we organise ourselves to meet these challenges defines us. It defines
the work we do, our relationships with clients and colleagues, how we develop
and how we feel when we walk through the door in the morning.
What we offer
You're making one of the most
important decisions of your life.
Understanding how the differences
set out on the next page will influence
every day of your working life at
Slaughter and May should play a
fundamental role in that decision.
We aim to explain them in detail in
this brochure.
In summary, they mean that we work
together to make difficult things
achievable.
2
slaughterandmay.com/careers