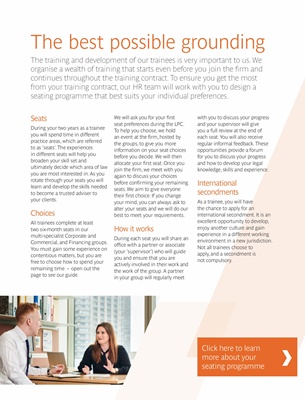 Seats
During your two years as a trainee
you will spend time in different
practice areas, which are referred
to as 'seats'. The experiences
in different seats will help you
broaden your skill set and
ultimately decide which area of law
you are most interested in. As you
rotate through your seats you will
learn and develop the skills needed
to become a trusted adviser to
your clients.
Choices
All trainees complete at least
two six-month seats in our
multi-specialist Corporate and
Commercial, and Financing groups.
You must gain some experience on
contentious matters, but you are
free to choose how to spend your
remaining time - open out the
page to see our guide.
The best possible grounding
We will ask you for your first
seat preferences during the LPC.
To help you choose, we hold
an event at the firm, hosted by
the groups, to give you more
information on your seat choices
before you decide. We will then
allocate your first seat. Once you
join the firm, we meet with you
again to discuss your choices
before confirming your remaining
seats. We aim to give everyone
their first choice. If you change
your mind, you can always ask to
alter your seats and we will do our
best to meet your requirements.
How it works
During each seat you will share an
office with a partner or associate
(your 'supervisor') who will guide
you and ensure that you are
actively involved in their work and
the work of the group. A partner
in your group will regularly meet
with you to discuss your progress
and your supervisor will give
you a full review at the end of
each seat. You will also receive
regular informal feedback. These
opportunities provide a forum
for you to discuss your progress
and how to develop your legal
knowledge, skills and experience.
International
secondments
As a trainee, you will have
the chance to apply for an
international secondment. It is an
excellent opportunity to develop,
enjoy another culture and gain
experience in a different working
environment in a new jurisdiction.
Not all trainees choose to
apply, and a secondment is
not compulsory.
Fold out page to learn
more about your
seating programme
The training and development of our trainees is very important to us. We
organise a wealth of training that starts even before you join the firm and
continues throughout the training contract. To ensure you get the most
from your training contract, our HR team will work with you to design a
seating programme that best suits your individual preferences.
28
slaughterandmay.com/careers