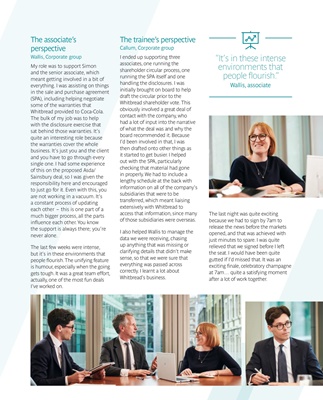 The last night was quite exciting
because we had to sign by 7am to
release the news before the markets
opened, and that was achieved with
just minutes to spare. I was quite
relieved that we signed before I left
the seat. I would have been quite
gutted if I'd missed that. It was an
exciting finale, celebratory champagne
at 7am… quite a satisfying moment
after a lot of work together.
The trainee's perspective
Callum, Corporate group
I ended up supporting three
associates, one running the
shareholder circular process, one
running the SPA itself and one
handling the disclosures. I was
initially brought on board to help
draft the circular prior to the
Whitbread shareholder vote. This
obviously involved a great deal of
contact with the company, who
had a lot of input into the narrative
of what the deal was and why the
board recommended it. Because
I'd been involved in that, I was
then drafted onto other things as
it started to get busier. I helped
out with the SPA, particularly
checking that material had gone
in properly. We had to include a
lengthy schedule at the back with
information on all of the company's
subsidiaries that were to be
transferred, which meant liaising
extensively with Whitbread to
access that information, since many
of those subsidiaries were overseas.
I also helped Wallis to manage the
data we were receiving, chasing
up anything that was missing or
clarifying details that didn't make
sense, so that we were sure that
everything was passed across
correctly. I learnt a lot about
Whitbread's business.
The associate's
perspective
Wallis, Corporate group
My role was to support Simon
and the senior associate, which
meant getting involved in a bit of
everything. I was assisting on things
in the sale and purchase agreement
(SPA), including helping negotiate
some of the warranties that
Whitbread provided to Coca-Cola.
The bulk of my job was to help
with the disclosure exercise that
sat behind those warranties. It's
quite an interesting role because
the warranties cover the whole
business. It's just you and the client
and you have to go through every
single one. I had some experience
of this on the proposed Asda/
Sainsbury deal, so I was given the
responsibility here and encouraged
to just go for it. Even with this, you
are not working in a vacuum. It's
a constant process of updating
each other - this is one part of a
much bigger process, all the parts
influence each other. You know
the support is always there; you're
never alone.
The last few weeks were intense,
but it's in these environments that
people flourish. The unifying feature
is humour, especially when the going
gets tough. It was a great team effort,
actually, one of the most fun deals
I've worked on.
"It's in these intense
environments that
people flourish."
Wallis, associate
9
slaughterandmay.com/careers