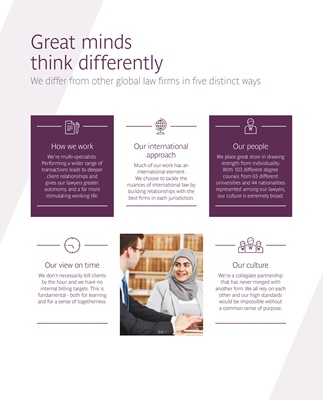 Great minds
think differently
Our international
approach
Much of our work has an
international element.
We choose to tackle the
nuances of international law by
building relationships with the
best firms in each jurisdiction.
Our view on time
We don't necessarily bill clients
by the hour and we have no
internal billing targets. This is
fundamental - both for learning
and for a sense of togetherness.
How we work
We're multi-specialists.
Performing a wider range of
transactions leads to deeper
client relationships and
gives our lawyers greater
autonomy and a far more
stimulating working life.
Our culture
We're a collegiate partnership
that has never merged with
another firm. We all rely on each
other and our high standards
would be impossible without
a common sense of purpose.
Our people
We place great store in drawing
strength from individuality.
With 103 different degree
courses from 65 different
universities and 44 nationalities
represented among our lawyers,
our culture is extremely broad.
We differ from other global law firms in five distinct ways
3
slaughterandmay.com/careers