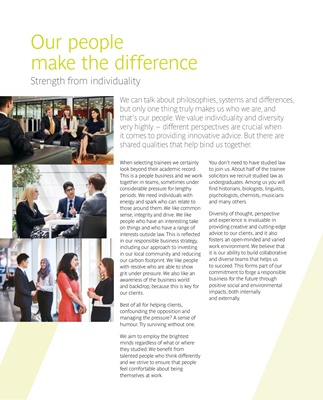 When selecting trainees we certainly
look beyond their academic record.
This is a people business and we work
together in teams, sometimes under
considerable pressure for lengthy
periods. We need individuals with
energy and spark who can relate to
those around them. We like common
sense, integrity and drive. We like
people who have an interesting take
on things and who have a range of
interests outside law. This is reflected
in our responsible business strategy,
including our approach to investing
in our local community and reducing
our carbon footprint. We like people
with resolve who are able to show
grit under pressure. We also like an
awareness of the business world
and backdrop, because this is key for
our clients.
Best of all for helping clients,
confounding the opposition and
managing the pressure? A sense of
humour. Try surviving without one.
We aim to employ the brightest
minds regardless of what or where
they studied. We benefit from
talented people who think differently
and we strive to ensure that people
feel comfortable about being
themselves at work.
Strength from individuality
Our people
make the difference
We can talk about philosophies, systems and differences,
but only one thing truly makes us who we are, and
that's our people. We value individuality and diversity
very highly - different perspectives are crucial when
it comes to providing innovative advice. But there are
shared qualities that help bind us together.
You don't need to have studied law
to join us. About half of the trainee
solicitors we recruit studied law as
undergraduates. Among us you will
find historians, biologists, linguists,
psychologists, chemists, musicians
and many others.
Diversity of thought, perspective
and experience is invaluable in
providing creative and cutting-edge
advice to our clients, and it also
fosters an open-minded and varied
work environment. We believe that
it is our ability to build collaborative
and diverse teams that helps us
to succeed. This forms part of our
commitment to forge a responsible
business for the future through
positive social and environmental
impacts, both internally
and externally.
18
slaughterandmay.com/careers