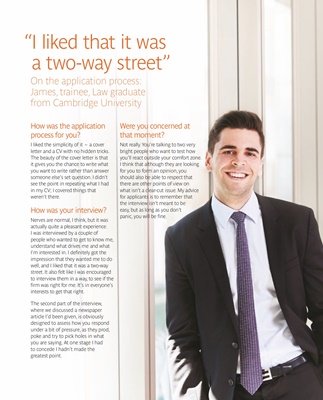 Law School
Trainee induction
Trainee seating programme
Training contract structure
During your training contract you will sit in a number of different legal groups.
Your training period will always include:
· one seat in a Corporate and Commercial group
· one seat in a Financing group
· at least 3 months' contentious experience.
International secondment
You can apply for a 6-month international secondment to take place in your 3rd
or 4th seat. In addition, you can apply to spend 3 months in Brussels as part of
your Competition seat.
Given our breadth of groups and practice areas, there are
numerous seat permutations for a training contract.
Below are just a few examples:
Financing
6 Dispute Resolution
6
Intellectual Property
/ Information Technology
6 Financing
6
Seat 1 Seat 2
Corporate and Commercial
6
Competition (London)
Competition (Brussels)
3
3
Corporate and Commercial
6
Competition (London)
Competition (Brussels)
3
3
Financing
6
Pensions and Employment
Tax
3
3