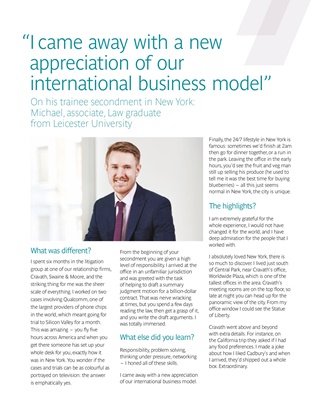 " I came away with a new
appreciation of our
international business model"
On his trainee secondment in New York:
Michael, associate, Law graduate
from Leicester University
From the beginning of your
secondment you are given a high
level of responsibility. I arrived at the
office in an unfamiliar jurisdiction
and was greeted with the task
of helping to draft a summary
judgment motion for a billion-dollar
contract. That was nerve wracking
at times, but you spend a few days
reading the law, then get a grasp of it,
and you write the draft arguments. I
was totally immersed.
What else did you learn?
Responsibility, problem solving,
thinking under pressure, networking
- I honed all of these skills.
I came away with a new appreciation
of our international business model.
Finally, the 24/7 lifestyle in New York is
famous: sometimes we'd finish at 2am
then go for dinner together, or a run in
the park. Leaving the office in the early
hours, you'd see the fruit and veg man
still up selling his produce (he used to
tell me it was the best time for buying
blueberries) - all this just seems
normal in New York, the city is unique.
The highlights?
I am extremely grateful for the
whole experience, I would not have
changed it for the world, and I have
deep admiration for the people that I
worked with.
I absolutely loved New York, there is
so much to discover. I lived just south
of Central Park, near Cravath's office,
Worldwide Plaza, which is one of the
tallest offices in the area. Cravath's
meeting rooms are on the top floor, so
late at night you can head up for the
panoramic view of the city. From my
office window I could see the Statue
of Liberty.
Cravath went above and beyond
with extra details. For instance, on
the California trip they asked if I had
any food preferences. I made a joke
about how I liked Cadbury's and when
I arrived, they'd shipped out a whole
box. Extraordinary.
What was different?
I spent six months in the litigation
group at one of our relationship firms,
Cravath, Swaine & Moore, and the
striking thing for me was the sheer
scale of everything. I worked on two
cases involving Qualcomm, one of
the largest providers of phone chips
in the world, which meant going for
trial to Silicon Valley for a month.
This was amazing - you fly five
hours across America and when you
get there someone has set up your
whole desk for you, exactly how it
was in New York. You wonder if the
cases and trials can be as colourful as
portrayed on television: the answer
is emphatically yes.
14
slaughterandmay.com/careers