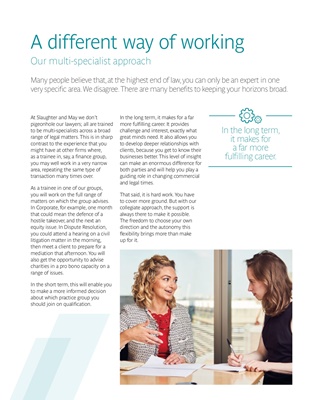 Our multi-specialist approach
A different way of working
At Slaughter and May we don't
pigeonhole our lawyers; all are trained
to be multi-specialists across a broad
range of legal matters. This is in sharp
contrast to the experience that you
might have at other firms where,
as a trainee in, say, a finance group,
you may well work in a very narrow
area, repeating the same type of
transaction many times over.
As a trainee in one of our groups,
you will work on the full range of
matters on which the group advises.
In Corporate, for example, one month
that could mean the defence of a
hostile takeover, and the next an
equity issue. In Dispute Resolution,
you could attend a hearing on a civil
litigation matter in the morning,
then meet a client to prepare for a
mediation that afternoon. You will
also get the opportunity to advise
charities in a pro bono capacity on a
range of issues.
In the short term, this will enable you
to make a more informed decision
about which practice group you
should join on qualification.
Many people believe that, at the highest end of law, you can only be an expert in one
very specific area. We disagree. There are many benefits to keeping your horizons broad.
In the long term,
it makes for
a far more
fulfilling career.
In the long term, it makes for a far
more fulfilling career. It provides
challenge and interest, exactly what
great minds need. It also allows you
to develop deeper relationships with
clients, because you get to know their
businesses better. This level of insight
can make an enormous difference for
both parties and will help you play a
guiding role in changing commercial
and legal times.
That said, it is hard work. You have
to cover more ground. But with our
collegiate approach, the support is
always there to make it possible.
The freedom to choose your own
direction and the autonomy this
flexibility brings more than make
up for it.
4
slaughterandmay.com/careers