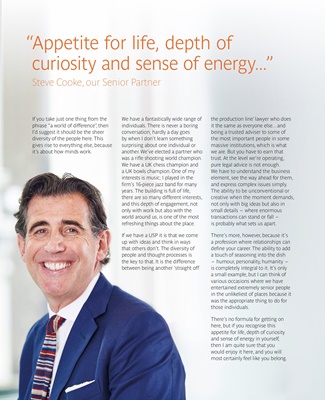 "Appetite for life, depth of
curiosity and sense of energy..."
If you take just one thing from the
phrase "a world of difference", then
I'd suggest it should be the sheer
diversity of the people here. This
gives rise to everything else, because
it's about how minds work.
Steve Cooke, our Senior Partner
We have a fantastically wide range of
individuals. There is never a boring
conversation; hardly a day goes
by when I don't learn something
surprising about one individual or
another. We've elected a partner who
was a rifle shooting world champion.
We have a UK chess champion and
a UK bowls champion. One of my
interests is music; I played in the
firm's 16-piece jazz band for many
years. The building is full of life,
there are so many different interests,
and this depth of engagement, not
only with work but also with the
world around us, is one of the most
refreshing things about the place.
If we have a USP it is that we come
up with ideas and think in ways
that others don't. The diversity of
people and thought processes is
the key to that. It is the difference
between being another 'straight off
the production line' lawyer who does
it the same as everyone else... and
being a trusted adviser to some of
the most important people in some
massive institutions, which is what
we are. But you have to earn that
trust. At the level we're operating,
pure legal advice is not enough.
We have to understand the business
element, see the way ahead for them,
and express complex issues simply.
The ability to be unconventional or
creative when the moment demands,
not only with big ideas but also in
small details - where enormous
transactions can stand or fall -
is probably what sets us apart.
There's more, however, because it's
a profession where relationships can
define your career. The ability to add
a touch of seasoning into the dish
- humour, personality, humanity -
is completely integral to it. It's only
a small example, but I can think of
various occasions where we have
entertained extremely senior people
in the unlikeliest of places because it
was the appropriate thing to do for
those individuals.
There's no formula for getting on
here, but if you recognise this
appetite for life, depth of curiosity
and sense of energy in yourself,
then I am quite sure that you
would enjoy it here, and you will
most certainly feel like you belong.